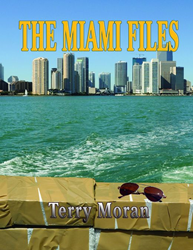 Detail and fast paced excitement reminded me James Patterson or David Baldacci…. perfect mix of suspense, mystery, love, betrayal, with humor tossed in. Written by a former FBI agent so the authenticity is there. Truly great read. -- Amazon.com reviewers
(PRWEB) July 31, 2014
Drug kingpin Alvaro Lopez Tardon, head of an international narcotics trafficking and money laundering syndicate that distributed 7,500 kilos of South American cocaine in Madrid and laundered $15 million in proceeds in Miami, faces federal sentencing in Miami in August (US Department of Justice, June 12, 2015). With such a rich, continuing history of drugs and criminals, Terry Moran, a former FBI undercover narcotics agent, uses the city's famous cocaine trade as the setting for his recent thriller/crime novel "Miami Files" published by TotalRecall Publications.
The story opens as Jack Armstrong, an up and coming young Atlanta businessman, has paid his dues at Marlowe Plumbing and Supply and finally gets a well deserved promotion. A misdirected shipment of supplies reveals billions of dollars worth of cocaine, which could devastate the company and Jack's good name. Rightly contacting the FBI actually backfires for Jack and places him squarely in the crosshairs of the FBI agent investigating the incident and the Mob who wants their cocaine returned.
Jack races against the clock to evade the FBI and the Mob, all while trying to prove his innocence. Trekking through the Southeast, he finds information which could implicate the FBI Agent chasing him and who may have more at stake than just apprehending Jack. Jack lands in Miami where he finds the information he needs to clear his name, but it may be too little and too late to save him from either side.
Terry Moran made a career in law enforcement for 28 years before retiring from Federal service in 2008. He spent five years working undercover narcotics, giving him an insider's view of dark world of drug smuggling that he shares with readers. He also worked various crimes like bank robberies, kidnappings and financial fraud. Now retired, he works closely with people needing high level scurity clearances. Terry and his wife Margaret teamed up for their debut novel "My Enemy's Face," also published by TotalRecall Publications.
Miami Files can be found on Nook, Amazon.com, and TotalRecall Press.
TotalRecall Publications Inc. was founded in 1998 by Bruce Moran, a former NASA IT professional who transitioned into computer instruction and educational materials. The company began with the introduction of study guides and Q&A testing software for various computer and financial certification exams and expanded into library and information science textbooks in 2007. Since 2008, the publisher has been developing a fiction product line by debut authors that focuses on mysteries, thrillers, and military action. Additionally, TotalRecall has expanded into general nonfiction and now publishes more than 200 non-fiction and fiction titles, all distributed worldwide through book retailers and wholesalers and via eBook databases such as ebrary, EBSCO, and Books24x7.com. http://www.totalrecallpress.com.