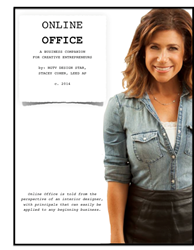 The only business secret that I believe exists is having a dedication to your work and your own success.
Los Angeles, CA (PRWEB) June 23, 2014
Los Angeles based interior architect, journalist, designer and entrepreneur, Stacey Cohen of Stacey Cohen Interiors (SCi), is sharing her advice for other creative entrepreneurs in her new ebook, "Online Office: A Business Companion for Creative Entrepreneurs." The well written and easy to follow guide will help entrepreneurs prepare a business plan that allows them to turn their talents into profits. The ebook was released in honor of the fifth anniversary of SCi, and is now available for purchase at staceycoheninteriors.com and the iTunes Store.
"Writing this ebook seemed like a nice way to share my knowledge as I move onto a new chapter in my career. That's the beauty of hard work and good relationships; sharing becomes a larger part of your business model than a fear of giving away your secrets to the competition," stated Cohen. "The only business secret that I believe exists is having a dedication to your work and your own success. There is more than enough demand for talented designers and craftsman with a brain for business. People just have to be willing to reach for it."
"Online Office" shares invaluable lessons that Cohen learned from her own experiences getting started in her career. It focuses on a range of topics such as getting a business online, tips for organizing and setting up the different necessary accounts, ranking in search engines, marketing strategies, and pinpointing a business process. Cohen has worked and lived in New York, Chicago, Michigan, Florida and Los Angeles, and incorporates the unique perspective of having worked in many different environments into her ebook. Creative professionals from all backgrounds will find "Online Office" to be a treasure trove of useful and relevant information, whether their idea for a business is small or large, and whether they work in an urban or rural location.
About Stacey Cohen
Cohen is a graduate from Parson's School of Design in New York, and from Columbia College Chicago. Her background in architecture from her time at the University of Illinois, and business training in the Entrepreneur Organization's Accelerator program has continued to shape her company's vision and best practices. Her innovative portfolio has gained her recognition from some of the top design publications and media outlets, including a season as a finalist on HGTV's "Design Star." For more information, visit http://www.staceycoheninteriors.com/. A media kit is also available upon request.
Contact:
Sophie Anzaldo
Managing Assistant
310-903-7168
Sophie(at)staceycoheninteriors(dot)com