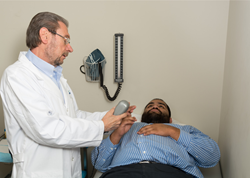 Los Angeles, California (PRWEB) June 25, 2014
With military veterans at higher risk of experiencing sexual dysfunction than the general male population and in light of the recent scandal facing the U.S. Department of Veterans Affairs about the delayed medical care of our veterans, Boston Medical Group (BMG), the nation's largest private men's sexual health clinics, will offer free diagnostic tests from June 30 – July 11, announced board-certified urologist Robert Shaw, M.D., principal member of the BMG medical team.
The specialized tests, which usually cost $395, are not offered in most doctors' offices and are designed to determine the source of the problem. Post Traumatic Stress Disorder (PTSD) often plays a significant role in sexual dysfunction among our veterans. The sexual problems also may stem from a lack of blood flow, neurological damage, concurrent medications or hormonal imbalance. For instance, many veterans suffer from low testosterone levels, which can adversely affect their cardiovascular health and shorten their life expectancy. The condition is often under diagnosed and untreated. Only through a thorough evaluation can a proper diagnosis treatment plan be recommended.
According to the National Center for Biotechnology Information, mens' sexual health issues are prevalent among veterans, but patterns of documentation suggest that they may be under-reported or incompletely addressed. In those studies, rates of sexual dysfunction were as high as 80%.
Another study by the Veterans Affairs Pacific Islands Health Care System in Honolulu, looked at rates of sexual dysfunction among 53 male veterans being treated for PTSD and found that more than 90% of them were experiencing some form of sexual dysfunction with 74% having reduced sexual desire, 49% with erectile dysfunction and 15% with some form of ejaculatory problem.
"Many of the brave men who served us are not getting the care they need at our VAs, so we hope to reach as many of them as possible with this public service that revolves around Independence Day" said Shaw, who has been in practice for more than 40 years. "Too many men are suffering in silence from some form of sexual health issue yet there is no need. BMG has a success rate of 98%, so a satisfying sex life is in the cards for those taking that first step."
Shaw said that many of the well-known erectile dysfunction medications only work for 50% of men and, in fact, can pose a danger for those with underlying cardiovascular issues. Veterans in need will receive initial complimentary medication.
"There are new, safe, state-of-the-art treatments available for nearly all men that go beyond the well-known prescription meds," he said. "There is hope for nearly all men and this free diagnostic test is the first step to seeking help."
For more information or to schedule the free confidential diagnostic exam, visit http://www.BostonMedicalGroup.com or call 800-337-7555.