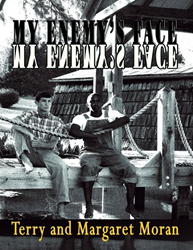 An outstanding story set in an intergrated southern community. -- Richard Grubb
Friendswood, TX (PRWEB) July 31, 2014
Federal indictments announced in July against four adults for a series of racially-motivated hate crimes in Mississippi, including death caused by being run over by a truck, highlight again the never ending need to treach human compassion. TotalRecall Publications presents a coming-of-age novel set in 1960s Alabama -- a tale that deeply engages readers in the historical upheavals of the Civil Rights Movement and its hard-won lessons for tolerance today.
In "My Enemy's Face," generationally-taught racism collides with integration when two 17-year old Alabama football players, one white and the other black, find themselves on the same team. In creating a compelling story brimming with authentic characters and atmosphere, authors Terry and Margaret Moran draw on their collective childhood memories and Terry's remembrances of his FBI Special Agent father, who handled civil rights and Ku Klux Klan cases during 1961-1967 in Alabama.
The complexity of the era's political, social, emotional, and spiritual turmoil are brought to life through the lives of Billy Ray and Noah. Billy Ray is white and the son of the powerful and wealthy Mayor of a small town. He is raised to accept his father's racist and narrow-minded ways in 1960s Alabama. Noah Franklin is his polar opposite. A black son of poor parents, Noah doesn't have racist bone in his body until the federal government forces integration. Billy Ray and Noah clash on the first day of school, and through what can only be explained as an Act of God, are forced to live their lives through the other's eyes.
Both their spirits and faith are tested through triumphs and failures in a small community not ready for change or unity. Hate turns into friendship as the two boys try to deal with their new circumstances. In an ultimate act of sacrifice, one will be forced to lay down his life to save the other. In an act of love, the other races against time to save him.
Terry and Margaret Moran join forces for their first book "My Enemy's Face" released by TotalRecall Publications. Terry Moran made a career in law enforcement for 28 years before retiring from Federal service with the FBI and DOE in 2008. He lived in Alabama from 1961 to 1967 where his father was a Special Agent with the FBI. Terry remembers his father working multiple civil rights cases involving members of the Ku Klux Klan.
Knoxville native Margaret Moran graduated from the University of Tennessee with a degree in Graphic Design. She taught Art and Photography to both elementary and high school students for 18 years. Asked why she and Terry kept working on "My Enemy's Face" for 15 years, Maragert says, "We just believed so much in the book. I imagined it as writing a movie and I fell in love with the characters. So much of the spiritual part felt like it was coming straight from God, not my words. I really think He inspired so much of the writing… so how can you give up on God?"
Terry and Maragret's book "My Eneny's Face" can be purchased through Nook, Amazon.com, and TotalRecall Publications.
TotalRecall Publications Inc. was founded in 1998 by Bruce Moran, a former NASA IT professional who transitioned into computer instruction and educational materials. The company began with the introduction of study guides and Q&A testing software for various computer and financial certification exams and expanded into library and information science textbooks in 2007. Since 2008, the publisher has been developing a fiction product line by debut authors that focuses on mysteries, thrillers, and military action. Additionally, TotalRecall has expanded into general nonfiction and now publishes more than 200 non-fiction and fiction titles, all distributed worldwide through book retailers and wholesalers and via eBook databases such as ebrary, EBSCO, and Books24x7.com. http://www.totalrecallpress.com.