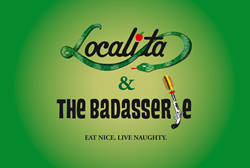 Los Angeles, CA (PRWEB) June 24, 2014
The vegan diet is on the national ascent sported by A-listers such as Natalie Portman and Ellen DeGeneres, and Localita & The Badasserie are spot on the trend continuing to make waves in the LA scene with its newly revamped vegan menu! Frequented by some of LA's hottest foodies and celebs, Localita's new menu is fashioned with a diverse economy of ingredients sure to please the palate whether you're vegan or simply vegan curious.
Crafted by rising culinary wunderkind Aidan Lozano and Localita owner Melissa Rosen, the fresh vegan menu offers new smoothies, breakfast bowls, sides, salads, burritos, and sandwiches. Paired with equally enticing names- like "The Chyckn N' Waffle What?!?!?!?!" , "The Quinoa Kid" "The Georgia Blonde"- the dishes make vegan eating fun and flavorful! With Zagat naming their Badass Breakfast Sandwich one of LA's top ten new sandwiches this year, their food is becoming an iconic part of the culinary landscape in the city.
Some personal favorites of owners Melissa Rosen and Greg Horos are "The 2AM Friend", a burrito concocted from vegan flank steak, vegan cheddar, black beans, red onion, cilantro, and homemade tomatillo salsa, and "The Pulled Porky" sandwich, composed of slow cooked jackfruit in a BBQ sauce based on a hundred year old recipe from Arkansas with red cabbage coleslaw and cucumber salad on a pretzel roll.
"We are deeply excited by the new vegan items we have added to our menu. Like all the food at both Locali and Localita, it is healthy, yet hearty fare that has appeal to meat eaters and vegans alike," says Rosen.
Other newly added favorites were brought from their Locali Conscious Convenience menu including "The Body Right" Breakfast Bowl, the Tempeh BLT and The Elvis, a smoothie composed of banana, cacao nibs, coconut yogurt, almond milk and sunflower seed butter. There are new smoothies, too, including "The Green Machine" created by manager, Byron Gomez.
With its 'We're So Bad... We Don't Need to Be Big' tagline, Localita & The Badasserie operates out of an 80 sq/foot kiosk just a few blocks from the hip new Ace Hotel in downtown LA. Aside from its innovative menu, Localita places an emphasis on bike delivery to add to their already thriving green footprint. The new vegan menu is both a unique and ideal addition to the Locali Conscious Convenience family that they're delighted to dish up and serve for corporate catering.
About Localita & The Badasserie:
Localita & The Badasserie was founded by Melissa Adele Rosen. It is the sister business of Locali Conscious Convenience owned by Rosen and Greg Horos. The kiosk serves vegan soups, salads, sandwiches, smoothies and snacks with a small amount of sass. There's coffee, too. No mochas, lattes nor filigree patterns made out of foam milk. Just good, strong, organic coffee. Localita & The Badasserie is located in Downtown Los Angeles at 817 S. Los Angeles Street, LA, CA 90014 and on the web at http://www.localita.co
For media inquiries or to setup an interview with either of the owners, please email Kelley Coughlan at Melrose PR, kelley(at)melrosepr(dot)com or (310)260-7901.