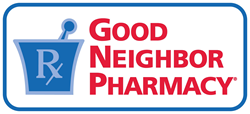 Chesterbrook, PA (PRWEB) June 24, 2014
The 2014 Good Neighbor Pharmacy of the Year Award winner will be announced on August 1 at ThoughtSpot at the MGM Grand in Las Vegas. Good Neighbor Pharmacy members from Ohio, Nebraska and Alaska are the top finalists for the award this year.
The finalists are members of AmerisourceBergen's Good Neighbor Pharmacy network and were selected from more than 60 nominees. This year, the finalists are featured in an integrated digital campaign on GoodNeighborPharmacy.com and the Good Neighbor Pharmacy Facebook page. Patients, peers, neighbors, families and friends can vote online after watching short feature videos on each finalist. Voting opened on June 15 and will continue through July 31.
The award recognizes those who exemplify what it means to be a Good Neighbor Pharmacy in their commitment to enhancing patient care and lives in local communities.

Davies Drugs – Canton, OH
Brothers Steve, Matthew and Michael Fettman are continuing a legacy of patient care started by their father more than 50 years ago. Davies Drugs serves Canton, Ohio's broad range of healthcare needs with partnerships throughout the community that improve patient outcomes. Davies mixes innovation with personal service to manage multiple disease states. But most of all, they treat every patient like a member of the family.
Deines Pharmacy – Beatrice, NE
Mitch Deines doesn't sell greeting cards. And he doesn't have customers…he has patients. For the past 23 years, Deines Pharmacy has applied a clinical approach to pharmacy, with three nurses on staff and a robust durable medical equipment department with a mission of making everyday living easier. This approach has served Mitch and his team well, bringing customers to Beatrice from surrounding cities up to 50 miles away and allowing Deines Pharmacy to thrive in a community with multiple competing independents.
Harry Race Pharmacy – Sitka, AK
In the remote island community of Sitka, Alaska, living locally is both a challenge and a necessity. And it's something Dirk and Trish White make a priority, not only as community leaders who wear a number of hats in order to keep Sitka viable, but also as pharmacists who understand their store's role as an access point for their friends' and neighbors' healthcare needs. At Harry Race Pharmacy, Dirk and Trish are making sustainability—and authentically "living local"—a reality.
ThoughtSpot is an annual conference and tradeshow hosted by Good Neighbor Pharmacy on behalf of AmerisourceBergen Drug Corporation, which aims to equip independent pharmacists with practices and resources they can use to transform their businesses to improve profitability and maintain their position as a vital source of patient care in their local communities. For more information on ThoughtSpot, visit: http://www.thoughtspot2014.com.
About AmerisourceBergen
AmerisourceBergen is one of the largest global pharmaceutical sourcing and distribution services companies, helping both healthcare providers and pharmaceutical and biotech manufacturers improve patient access to products and enhance patient care. With services ranging from drug distribution and niche premium logistics to reimbursement and pharmaceutical consulting services, AmerisourceBergen delivers innovative programs and solutions across the pharmaceutical supply channel. With over $100 billion in annualized revenue, AmerisourceBergen is headquartered in Valley Forge, PA, and employs approximately 13,000 people. AmerisourceBergen is ranked #28 on the Fortune 500 list. For more information, go to http://www.amerisourcebergen.com.