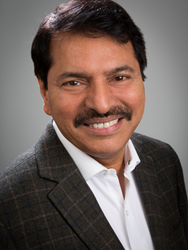 "Khan can see a situation from the broader view," said David K. Lee, CEO of UMS.
(PRWEB) June 26, 2014
United Mobile Solutions (UMS), a dedicated wireless equipment distributor and servicer, today announced the new hire of Seraj Khan as Director of International Business Development.
In his new capacity with UMS, Khan will manage an international strategy that the company is deploying over the coming months. As business develops, Khan will manage international carrier relationships and international enterprise customer needs as well as import/export business opportunities that become available.
Khan comes to UMS from Ingram Micro Mobility (formerly BrightPoint), where he served as Administration Manager, setting up new entities in Dubai and supporting operations and HR capabilities throughout the company. Khan most recently specialized in expanding a company into new locations and brings nearly three decades of successful management experience to UMS.
"Khan can see a situation from the broader view," said David K. Lee, CEO of UMS. "That overriding quality will help us lead UMS into its next season, as we move from our domestic focus into a multi-national business."
UMS recently introduced its rebranded company to the market. The company has grown its distribution business to now offer payment processing, enterprise sales to regional carriers, reverse logistics operations and international sales. Khan is the first of several significant hires who will drive the expansion, maintaining cost effectiveness for the company and best-in-service excellence for the customers.
Khan graduated from Ranchi University with his Bachelor of Science Engineering in Metallurgy (BIT) and earned his MBA in Marketing in 1991. Prior to his time with Ingram Micro Mobility (formerly BrightPoint), Khan handled business development and engineering projects for Bose Group of Companies and their subsidiary, First Dolphin Trading.
About United Mobile Solutions
United Mobile Solutions (UMS) is a dedicated wireless equipment distributor and service provider catering to a market that is sophisticated in its demands for the latest technology at affordable prices. UMS distributes GSM and CDMA handsets of every manufacturer branded with every carrier to retail cell phone dealers as well as to local providers across the country. UMS additionally provides a comprehensive portfolio of solutions that include payment processing, RMA, warranty, reverse logistics and sourcing. UMS first entered the market in 2009 with its flagship equipment distributor, CPD Mobile, a Master Dealer for T-Mobile Wireless that is credited with the creation of a distribution network of sub dealers – including kiosks, stores, and franchised outlets – numbering more than 1600 U.S. locations. UMS is based in Norcross, GA with operations and sales offices in Texas and Florida. For more information, visit http://www.unitedmobilesolutions.com.