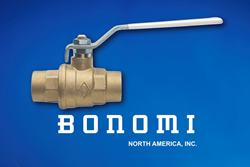 ...install 'like the good old days'...
Charlotte, NC (PRWEB) June 27, 2014
New Bonomi 1715LF Series sweat-end commercial lead-free brass ball valves install "like the good old days" without special handling or high-temperature solders because they are made without bismuth or silicone. These two elements, often used as a substitute for lead, have caused their own problems for valve installers and specifiers.
Valves made using silicone as a substitute for lead have a higher resistance to heat. This means they require special high-temperature solder and retraining for contractors. Bismuth brass has been associated with valve bodies that crack during use.
Bonomi has never used high levels of lead in its brass valves, so no new elements were added to make them lead-free. The lead has simply been removed and the levels of the remaining elements increased.
This allows sweat-end connections on Bonomi valves to be made with traditional soldering methods and materials while still meeting all requirements of the Safe Drinking Water Act (SDWA), California AB1953 and other individual state regulations.
The Bonomi 1715LF features a forged lead-free brass body that is stronger and lighter than sand-cast valve bodies. Full-port sizes from 1/2" to 2" accommodate a wide range of flow requirements. Maximum working pressure is 600 WOG or 150 WSP. Maximum operating temperature is 366°F. The lead-free brass ball is T.E.A. coated.
Bonomi commercial brass ball valves provide bubble-tight shutoff and are 100% factory tested in the open and closed position at 80 psi. A blowout proof stem, PTFE seats and double O-ring stem seals for leak-free service are standard.
About Bonomi
Bonomi North America has served the U.S. and Canada since 2003 and is part of the Bonomi Group of Brescia, Italy. Bonomi Group brands include Rubinetterie Bresciane Bonomi (RB) brass ball valves and check valves; Valpres carbon and stainless steel ball valves; and Valbia pneumatic and electric industrial actuators. Bonomi North America maintains an extensive distribution network for these products from its headquarters in Charlotte, N.C. and a facility in Oakville, Ontario, Canada.
For more information on Bonomi 1715LF or other Bonomi lead-free products, contact Bonomi North America at (704) 412-9031 or visit http://www.bonominorthamerica.com.
[end]