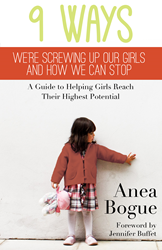 "Anea is doing wonderful things for so many girls and women of all ages helping them accept who they are and be their authentic selves."—Stacy London, Co-Host, What Not to Wear
(PRWEB) June 24, 2014
Self-esteem expert Anea Bogue, author of 9 WAYS WE'RE SCREWING UP OUR GIRLS AND HOW WE CAN STOP, returns to her "native land"—Canada. On the heels of her recent Hong Kong tour, Ms. Bogue will make appearances on Canadian television and radio shows this week, including the highly popular, The Social and The Morning Show.
Her book, a revolutionary guide for parents "and anyone who cares about the well-being of girls," has received accolades from many experts including Dr. Christiane Northrup, and in the Foreword written by Jennifer Buffett, President of the NoVo Foundation, and a passionate advocate for girls and women. At a time when research indicates that the average girl's self-esteem peaks at the age of 9—and then plummets—this book unearths the root causes of the crisis. Perhaps most importantly, it identifies how we can take action to stop perpetuating a problem that is leading to poor academic performance, eating disorders, risky sexual behavior, bullying and more.
Ms. Bogue draws on over 20 years of experience with girls and women of all ages, beginning in the classroom as a teacher in Canada, where she was born. She provides specific action steps that empower the reader to help create a world in which the female half of our "team" is able to thrive mentally, physically, and emotionally.
Jennifer Buffett stated, "I am thrilled to have been asked to write the Foreword for Anea's book. It is essential now that we gain a clearer, deeper and better understanding of the roles society and culture have played in socializing our girls… Their wholeness and contributions are essential to our collective future and I commend Anea on her clear and powerful analysis. Her book will be helpful to everyone who reads it."
Ms. Bogue's work was recently the focal point of an unprecedented promotional tour in Hong Kong where her REALgirl (R) Empowerment Program launched just months before her book was released. The tour included sold-out speaking engagements, workshops about her book and the launch of an anti-bullying program called "Be a REALgirl not a MEANgirl." The program has been gaining momentum in both Hong Kong and the US. Following her recent trip to Hong Kong, Ms. Bogue stated, "Seeing the massive response from parents in China, where girls and women often face even greater obstacles, gives me such hope that as a global community, maybe we're finally ready to do better for our girls."
9 WAYS WE'RE SCREWING UP OUR GIRLS AND HOW WE CAN STOP is available in trade paperback (ISBN 978-1-939447-40-1) and in e-book (ISBN: 978-1-939447-41-8) formats.
For more information about the author visit http://www.AneaBogue.com.
To schedule an interview with the author, or to request a review copy of the book, please direct your request to crystal(at)dunhamgroupinc(dot)com.