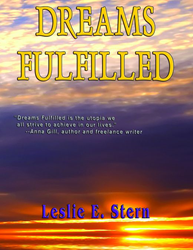 Leslie E. Stern takes the reader on an idealistic journey while lovingly describing her characters in such detail that they all become close friends of the reader." --John M. Wills, author/reviewer/public speaker
Friendswood, TX (PRWEB) June 30, 2014
As world headlines blare war, entrenched partisanship, and negativity in almost every sector, author Leslie E. Stern uses her new novel "Dreams Fulfilled", published by TotalRecall Publications, to shine a bright light on what humanity could be.
The Dreams Quartet is an epic novel that takes place in the 1980's and portrays two men who help pioneer the modern sailing industry using philosophies that help them avoid potential actions that could destroy their industry – unlike the greed and ruthless corporate behavior cataloged in daily news stories.
Leslie E. Stern combines her MA in English Literature, doctoral work in philosophy, and experience as a sailor, racer, and daughter of a legendary luxury sailboat designer to immerse readers in the intriguing world of wind and water and explore the idea that novels don't need antagonists to enthrall.
Graham Bennington, the patriarch of the American family in this new fiction saga, designs the highest quality sailboats ever seen. In "Dreams Fulfilled" the reader not only becomes entranced with the depth of the characters but learns how to sail and why boats sail, they learn how sailboats are built, and get a the behind-the-scenes look at the sailboat building industry.
Edward Oxford is the patriarch of the English family in the saga. Coming from wealth in the real estate industry, Edward dreams of a marine parts empire and creates the first aluminum masts and booms which make an extreme change in the sailboat industry. He continues to expand, building Oxford Marine, Ltd. as the largest parts conglomerate in the world.
Graham and Edward become friends during their first boat show and that friendship endures throughout their lives. But it is their children who take all their dreams of achievement and transcend them.
Graham has a daughter, Katia, whom he his forced to raise by himself due to the death of his beautiful wife. Katia has the depth of mind, emotional spirit, and forward thinking that makes Bennington Yacht Corporation more successful than even Graham had dreamed. While all the other sailboat manufacturers are closing, Katia's imagination overcomes all the obstacles that have plagued the industry.
Edward has three sons. His eldest, Thomas, is a professor of English literature and begins the saga as a stodgy Brit with a dull-as-dishwater wife. Kevin, the middle son, becomes an international sailboat racer and is the cheeky adventurer. It is Bryan, Edward's youngest son, who is his pride and joy from the beginning. It is Bryan who takes Oxford Marine, Ltd. to new levels.
Katia Bennington and Bryan Oxford met when they were in Middle School and they dream of each other throughout their teens, meeting again once but always missing each other as ships passing in the night.
Each book in the Dreams Quartet takes the reader further into the world of Bennington Yacht Corporation and Oxford Marine Limited, as well as the personal lives of the characters. In Dreams Fulfilled the reader is introduced to the world of sailing and the love of nature, family, and business.
"Dreams FulFilled" is available in Kindel and harcover editions from Amazon.com and other booksellers.
Los Angeles native, Leslie E. Stern earned an MA in English Literature from the University of Miami and pursued a doctoral degree in philosophy. She went on to career in public relations, but never forgot her roots in fiction writing. Leslie is now the highly acclaimed author of the poetry book "Images from My Soul," award-winning non-fiction book "Living With A Legend," and award-winning novel "Addictive." Her biological father owned Islander Yachts and later designed every boat in the Challenger Yachts line of luxury sailboats he owned, pioneering many of the amenities the sailboat industry now takes for granted. Leslie worked at Challenger Yachts and was an avid sailor and racer for most of her life. She is currently completing the Dreams Quartet and then the Gifted Trilogy. She is an active member of Mensa and is a member of Writer's Guild of America, Atlanta Writer's Club, and Zona Rosa.
TotalRecall Publications Inc. was founded in 1998 by Bruce Moran, a former NASA IT professional who transitioned into computer instruction and educational materials. The company began with the introduction of study guides and Q&A testing software for various computer and financial certification exams and expanded into library and information science textbooks in 2007. Since 2008, the publisher has been developing a fiction product line by debut authors that focuses on mysteries, thrillers, and military action. Additionally, TotalRecall has expanded into general nonfiction and now publishes more than 200 non-fiction and fiction titles, all distributed worldwide through book retailers and wholesalers and via eBook databases such as ebrary, EBSCO, and Books24x7.com. http://www.totalrecallpress.com.