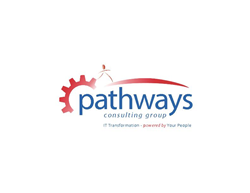 We are looking forward to an exciting day of exchanging ideas with our colleagues and probing more deeply into emerging trends that are impacting our industry....said Pathway President Jeff Giovinazzo.
Hoffman Estates, Illinois (PRWEB) June 24, 2014
CIOsynergy, producer of thought-leading events for the information technology field, today announced Pathways Consulting Group as the official sponsor of its CIO Symposium June 26, 2014 at the Sheraton New York Times Square Hotel in New York, New York. More than 200 chief information officers from the New York metropolitan area are attending this event.
Pathways Consulting Group is a leading delivery partner for IT infrastructure transformation management in the New York metropolitan area. Open to Fortune 500 companies and mid-market enterprise, CIOsynergy events gather senior executives from the office of the CIO, including directors, vice presidents, chief architects, chief technology officers and chief information officers.
The event will feature a "CIOreality" discussion moderated by Scott Shuster, former ABC News foreign correspondent, producer of NPR's "All Things Considered," and consulting editor for McGraw-Hill and Business Week. Shuster will discuss, with Pathways partner and Chief Operating Officer Craig Conlon, "Enterprise IT's Transformation to Service Provider." They will probe the impact that standardization and manufacturization have on successful Enterprise IT transformation. "CIOreality" is a CIOsynergy symposium that regularly explores the challenges of Enterprise IT with key thought leaders.
"We are thrilled to have Pathways Consulting Group at CIOsynergy New York. As leading provider of IT transformation services in the New York area, their presence will provide event attendees with an additional layer of industry insights and thought leadership," said Patrick Mason, director of communications and marketing at CIOsynergy.
"Pathways is very proud to sponsor this important event for the CIO's of the New York City area," said Pathways President Jeff Giovinazzo. "We're looking forward to an exciting day of exchanging ideas with our colleagues and probing more deeply into emerging trends that are impacting our industry – trends such as the productizing of IT Services and how that dramatically changes how we do business in the future."
CIOsynergy New York is an exclusive opportunity for leading local CIO and IT executives to network and brainstorm daily hurdles in an unparalleled learning environment under the direction of John Sculley, the featured speaker for the event. Sculley is one of America's best known business leaders. He was Pepsi-Cola Co.'s youngest CEO, leading the firm through its high growth years with hugely successful experience marketing innovations. In 1982, Steve Jobs recruited John Sculley as CEO to teach Apple how to do big brand experience marketing. Since leaving Apple, John and his Sculley Brothers Family Office has helped many high technology serial entrepreneurs build some of the most disruptively innovative technology enabled firms. These include MetroPCS, HotWire, NFO Research, Intralinks, and Credit Trade. Currently, John is mentor and investor in mobility and Big Data analytics, consumerization of healthcare, data base marketing, IT supply chain, and emerging financial services.
Sculley will share his firsthand experience with the likes of Apple and Pepsi, offering insights on today's most innovative companies. He will show how companies can thrive, even in tough times, by embracing the power of innovative ideas and creating execution.
In his "CIOreality" chat with Conlon, Shuster will share and explore how CIOs can be successful in their role. Shuster has led virtually every Business Week CEO, CFO, and CIO conference held since the founding of the magazine's events group - more than 100 of the world's most prominent gathering of large company leaders and senior executives.
"This is an extremely important topic that we, as an industry, must address because of the impact it will have on us," said Conlon about the Fireside Chat. "Like the work we ourselves do now, we must adjust and transition to the commercialization of Enterprise IT Services to remain a vital technology solution provider to within our companies. This is going to be a very important discussion for everyone in the room."
For more information about or to participate in CIOsynergy New York, visit: http://CIOnewyork.com, or contact Araceli Delgado, Project Coordinator at aracelid(at)ciosynergy(dot)com or 1.847.278.2213 ext. 899.
About CIOsynergy
CIOsynergy provides a platform that brings together the thought leaders of IT through events that incorporate face-to-face meeting opportunities, panel discussions, think tanks and keynotes, and C-suite networking programs. Previous events have attracted C-suite leaders from companies such as Wal-Mart, Salesforce, Home Depot, Bank of America, Forbes Media, Wells Fargo, Shell, Allstate, State Farm, Career Education Corp, Pepsi, Sara Lee, Kraft, BP, Loyola University, Kaiser Permanente, Mayo Clinic, and Walgreens. The company operations nationwide and has previously partnered with sponsors such as IBM, 3com, VMware, Unisys, Hitachi, Oracle, SunGard, Dell, Google, Amazon, and HTC among hundreds more.
About Pathways Consulting Group
Pathways Consulting Group is an IT consulting company in the IT infrastructure transformation business which helps IT executives to shape and execute new business processes and practices that transition Infrastructure IT to a service provider business model. For further information, visit http://www.pathwayscg.com/.