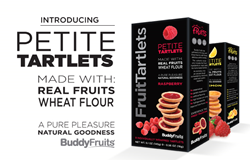 "…I love that they are not too sweet and satisfy my sweet tooth without too much sugar," Buddy Fruits Customer Peggy B. from Alabama
Coral Gables, FL (PRWEB) June 23, 2014
Buddy Fruits, the leader in all-natural fruit pouches and snacks, has won the 2014 Shape Magazine Editor's Choice Award. Pick up a July/August issue of Shape Magazine on newsstands today and look for Buddy Fruits on Page 136 and 138. The product that received this award was none other than our Petite Fruit Tartlets.
The Buddy Fruits Fruit Tartlets are made from a traditional French recipe using only real fruit, cane sugar and wheat flour. The product launched September 2013 just a few years after the original Buddy Fruits snack line of fruit pouches were introduced to the USA.
"…I love that they are not too sweet and satisfy my sweet tooth without too much sugar," Buddy Fruits Customer Peggy B. from Alabama shares. As our society has become more health conscious, Buddy Fruits looks to provide the answer to our customer needs- a healthy snack to fit their on-the-go lifestyle. Each Fruit Tartlet can easily be fit into any purse, bag, or lunch box. Academy Award Nominee and official Buddy Fruits brand fan, Minnie Driver, affectionately calls them "jam tarts" in describing how she loves the products. In a recent article posted by EverydayHealth.com, Minnie Driver is quoted describing how much she loves Buddy Fruits.
Living a healthy lifestyle is something we know our customers want regardless of status. What they don't want are ingredients that are unnatural. Buddy Fruits' low calorie, high quality products offer a snack alternative to satisfy any sweet tooth.
"Both our raspberry and lemon Fruit Tartlets are a unique offering in our product portfolio. We took extra care to provide a quality product, as we do with all of our items, without sacrificing taste," said Buddy Fruits VP Marketing, Dan Connors, "we're honored for this endorsement from Shape Magazine."
Find our Fruit Tartlets available at your local Walmart store for $2.88 or order by the case on http://www.Amazon.com/Buddy-Fruits. For more information on Fruit Tartlets and other Buddy Fruits products for you, visit http://www.fruitbreak.com.