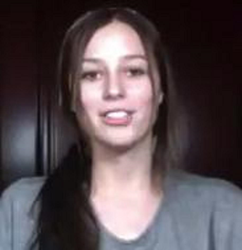 (PRWEB) June 23, 2014
Paige starts off this easy beginner acoustic guitar lesson by stating that you will need to use a capo on the 3rd fret of your guitar to be in the correct key of the song. Next Zollars goes over the guitar chords that are used in the song as follows; D, Em (E minor), G, C and Am7 (A minor seven). Next Paige goes over the verse of the song as follows; Em, D, G and Am7 and that the strumming is one single down stroke for each chord. Next she goes over the chorus as follows; C, G, D and Em and since the strumming for the chorus is quit complex Zollars recommends clicking the link for the guitar TAB's first so it will be easier to follow along. Complete chord charts as well as guitar TAB's are available for this easy beginner acoustic guitar lesson at SongTabs.com.
A Capo, short for capotasto, which is Italian for "head of fret board", is a device used on the neck of a fretted instrument to shorten the playable length and raise the pitch.
The Script is an Irish rock band formed in Dublin in 2001. Their music has been featured on popular television programs such as 90210, The Hills and the Vampire Diaries. Over the Course of their career they have released three studio albums and have been awarded a World Music Award, three Meteor Ireland Music Awards and two Brit Awards.
Paige Zollars
Has been a singer and song writer for the last 6 years and performs at fairs and coffee shops in her area. She has an original song "Broken" available on ITunes and works for a company called KlabLab where she makes educational songs for the classroom.
About SongTabs.com
SongTabs.com is a great online resource for learning to easily play your favorite songs on the guitar. With several great instructors and a constant growing catalog of songs, everyone can learn to play there favorite songs.