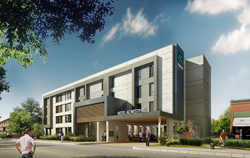 The AC Hotels by Marriott is a great addition to Kansas City's charismatic Westport neighborhood. From Barcelona to Kansas City, we are thrilled to be one of the first to introduce this amazing experience to the US. - Rachel Unger, Hotel Manager
(PRWEB) June 25, 2014
The Q Hotel in Kansas City's Westport District has begun its transformation to become the new AC Hotels by Marriott Kansas City Westport. The hotel will undergo a comprehensive interior and exterior repositioning which will be unveiled in the fall of this year at its reopening. The European-design inspired hotel incorporates innovative technology with a balance between community and personal workspace. The vibrant and unique location of Westport makes it a perfect fit for the new AC Hotels by Marriott to cater to both business and leisure travelers.
"The AC Hotels by Marriott is a great addition to Kansas City's charismatic Westport neighborhood," said Rachel Unger, Hotel Manager of AC Hotels by Marriott Kansas City Westport, "From Barcelona to Kansas City, we are thrilled to be one of the first to introduce this amazing experience to the US."
Owned by Noble Investment Group and operated by Interstate Hotels & Resorts, the new hotel will feature the AC Lounge, a place for guests to connect over one of the hotel's variety of beverage choices which include individually bottled cocktails, regional beers and draft wines. The space also offers room to work, relax, read or watch TV. The AC Market will have fresh local food and drink options available 24 hours a day. Other upgrades will include mobile check- in, USB charging stations, a cutting edge fitness center, and state of the art Media Salons that feature Bluetooth technology. The hotel is nestled in the Westport District which has a unique history as Kansas City's original entertainment district as well as being the oldest established community. Westport's prime location puts guests within minutes from the Country Club Plaza, Power & Light District and the Sprint Center, Uptown Theater, and a great many museums.Westport is a cultured blend of rich history, local restaurants and boutiques as well as vibrant nightspots.
For inquiries or scheduling, Rachel Unger, Hotel Manager of AC Hotels by Marriott Kansas City Westport, can be contacted at 816-931-0001.
About AC Hotels by Marriott
Founded in 1998 by Antonio Catalán, AC Hotels by Marriott currently has a portfolio of more than 90 hotels in Spain, Italy and Portugal. In 2011, the brand formed a joint venture with Marriott to combine its sophisticated European style with Marriott's development expertise and global footprint. Among other accolades, the chain was awarded with the Prince of Asturias Award for Business Excellence by Grand Hotels as the best national hotel company, and chosen by the publication Expansion as the best Spanish hotel company to work for. For more information or reservations, please visit our website at http://www.ac-hotels.com.
About Noble Investment Group
Founded in 1993, the Noble organization specializes in making value-added, opportunistic investments in the lodging and hospitality real estate sector. Through its private equity real estate funds, Noble has invested more than $2.5 billion throughout the United States in primarily select service and extended stay hotels which are affiliated with premium brands by Marriott, Hyatt, Hilton and Starwood. For additional information, please visit http://www.nobleinvestment.com.