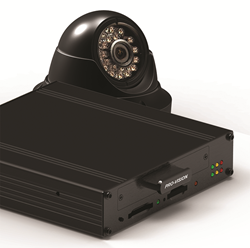 ...Now the clear leader with the most advanced, reliable, simple and affordable system...
Byron Center, MI (PRWEB) June 24, 2014
There is only one video recording system for school and transit buses that can record 1080p high-definition video from more than one camera simultaneously to a single solid-state DVR. PRO-VISION has surpassed other manufacturers by offering a system that can record 1080p high-definition video from up to eight individual cameras on a single vehicle. The only 8-channel 1080p mobile video recording system available in the industry, the PRO-VISION 800 Series system still features PRO-VISION's trademark compact sizing, industry-best 5-year warranty, and remarkably affordable pricing.
"This product makes PRO-VISION the clear leader with the most advanced, reliable, simple and affordable system," said marketing manager Sam Lehnert.
The newly released DVR also includes other state-of-the-art functionality. Supporting more operating systems than any other recording system, administrators can use laptops, tablets, or other mobile devices to change wireless settings or aim cameras during installation and use any of those devices to access the password-protected DVR to playback or download video. With over 40 other enhancements including blurring privacy protection, GPS-based fleet tracking, increased storage capacity, system health monitoring, secure log-in protection, and triggered e-mail alerts just to name a few, the PRO-VISION 800 Series system offers the complete package for school and transit fleet recording.
The DVR release coincided with trade shows in Georgia and Illinois last week allowing transportation directors to get a first-hand look at the new technology just in time for summer school bus installations.
About PRO-VISION – In 2003, PRO-VISION was incorporated and focused solely on back-up camera systems. 2005 marked their entry into the school bus market which helped their sales top 1 million dollars the following year. The company made their first international sale in 2007, and by 2009, PRO-VISION had expanded into commercial recording systems. During that time, they also released 4-camera school bus systems and made available live video viewing and video file transfer. In 2011, the company expanded into law enforcement recording systems and initiated its overseas sales program. 2013 brought on the 10-year anniversary in the commercial video system industry, and 2014 has seen expanded sales into over 29 countries around the globe including South Africa, Great Britain, Australia, Mexico, and Brazil.