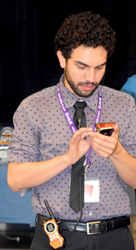 I asked myself, would one great networking event a year be enough face time for true connections? Our goal now is to maintain the 'hashtag-energy'!
Albuquerque, NM (PRWEB) June 24, 2014
EXHIB-IT! held a successful networking event and fundraiser on June 12. Given the tough times for businesses today, EXHIB-IT! Owner & CEO, DJ Heckes, went a step further, raising the bar by including an interactive B2B Recap section on the EXHIB-IT! website to keep the communication going.
B2B Expo Recap is a hub to help exhibitors and attendees stay connected. It gives users a place to comment, reconnect with each other and post business messages. The hub includes a feedback survey, copies of streaming video from the event and more. The most important component is the message board where attendees can communicate with each other all year long. The message board allows them to strengthen the relationships begun at the Expo as well as acquire new ones with members they meet in the developing online community.
"People were excited, friendly, motivated," said DJ Heckes, who also organized the EXHIB-IT! event. "They were very active with the LIVE Social Media Stream, and Streaming Broadcast. But, I asked myself, would one great networking event a year be enough face time for true connections? Our goal now is to maintain the 'hashtag-energy'!"
The 2014 B2B Expo raised close to $7,000 and brought over 550 people together to network, stream, post pictures and purchase silent auction items to support Dream BIG, the recipient of this year's fundraising efforts.
"We were truly excited to be at the B2B Expo," said Kevin Banks, Dream BIG Founder and CEO. "DJ reached out to us because she believes in what we do. We loved the outstanding support and networking opportunities." Hear more from Kevin Banks interview.
"The B2B Expo has become quite popular," said Heckes. "We already have an Exhibitor waiting list going for next year's event. To make sure that we continue to improve the quality of this event, we only allow people on that waiting list if they fill out the B2B Expo Recap Survey." Next year's Expo is slated for June 4, 2015 at the same venue, the Manual Lujan Center at the NM Expo Fairgrounds in Albuquerque.
Additional Live Stream Video from the Expo
Albuquerque Economic Development Director, Gary Oppedahl
About EXHIB-IT!
EXHIB-IT! is a design and display company with over 23 years' experience in specializing in high quality trade show displays and trade show management services. Industry thought leader and EXHIB-IT! CEO DJ Heckes has prioritized customer education as a core company value by publishing hundreds of helpful blog posts, online newsletters, white papers on tradeshow related topics and two books, Full BRAIN Marketing and The NOISE Behind BUSINESS - How to Make Tradeshows Work!.
About Dream BIG
Dream BIG was founded in order to provide enrichment programs, activities and support for youth and adults alike within our community and outreach internationally. Dream BIG promotes social, educational, athletic, health and wellness and cultural development to strengthen maximum potential and opportunities for today's youth and adults.