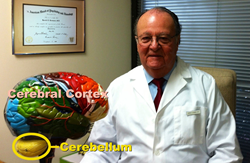 "The increasing referral incidences of dyslexia as well as ADHD [and autism] are correct; however, the traditional concepts and/or definitions have been wrong."
Great Neck, New York (PRWEB) June 24, 2014
A recent study just released by the Center for Disease Control (CDC) notes that the incidence of Autism or ASD rose 30% in just two years from 1/88 to 1/68. Another CDC report indicated that ADHD just increased to 11% from 8%. Similarly, the recognized incidence of Dyslexia or LD has steadily risen over the past few decades from 2% to 20%, averaging approximately 10% in recent estimates.
Many differing reasons have been given for the staggering increases in reported ADHD and dyslexia. Some like Dr. Saul suggest that these disorders do not exist. Similarly, writer Peter Hitchens considers these "alleged" disorders merely "excuses" for increasing numbers of lazy, underachieving individuals and/or poor teachers. And both blame "Big Pharma's" profit motives in marketing so-called "dangerous stimulant drugs" for over-diagnosing ADHD.
"Have these 'deniers' of ADHD and/or dyslexia forgotten to explain the huge number of successful and famous individuals driven to achieve despite their disorders as well as over a century's worth of supporting scientific evidence," asks Levinson?
In their book, The Dyslexia Debate, distinguished Professors Elliott and Grigorenko have raised valid problems with the current understanding, definition and diagnosis of dyslexia.They suggest the rising estimates of dyslexia to 20% indicate it's a catchall for normal variations rather than a real disorder. "Mistakenly, they view dyslexia as merely an educationally determined array of reading problems, denying the primary neurophysiological cause of this resulting syndrome comprising both reading and non-reading symptoms. Were their book read together and integrated with the medical understanding and treatment offered within A Solution To The Riddle—Dyslexia and Smart But Feeling Dumb," notes Levinson, "the debate would be completely and accurately resolved. The increasing referral incidences of dyslexia as well as ADHD are correct; however, the traditional concepts and/or definitions have been completely wrong."
By contrast, the dramatically increasing numbers with Autism or ASD have led many to search for rising genetic and/or environmental causes. Quite clearly, autistic symptoms can't be mistaken for normal variations. And pharmaceutical conspiracies or misguided psychological/educational rationalizations for neurophysiological failures play no role in autism, even to those predisposed to somatic or neurophysiological denial.
In the face of such conflicting interpretations, those concerned with these diverse and often overlapping disorders require a sound, logical explanation. Having neuropsychiatrically evaluated and successfully treated over 35,000 children and adults with these varied disorders for more than 4 decades, Dr. Levinson's many publications have provided a simple clinically-based perspective clarifying their diverse causes as well as the prexisting problems in recognizing and diagnosing only severe cases.
"What I've always realized is that both ADHD and dyslexia or LD were severely under- diagnosed as a result of their misunderstood origins," states Levinson. "Because dyslexia and ADHD are considered by many due to primary brain damage rather than a simple and treatable fine-tuning impairment within the cerebellum and inner-ear, only the severest cases were initially recognized using inaccurate and/or overly rigid defining criteria."
Levinson also believes that only the severest forms of autism were previously diagnosed. This resulted in the illusion that this disorder occurred very infrequently. "Over the years milder and bright autistic-like individuals (e.g., Asperger's, PDD, Autistic Trait Symptoms, etc.) were recognized and included under a 'larger diagnostic umbrella' termed Autistic Spectrum Disorder. Accordingly, the recognized and reported incidence has risen sharply.
"Contrary to the current 'hysteria' concerning over-diagnosis and over- treatment," Levinson believes that "milder cases with the above disorders are now finally recognized and more accurately helped. Previously, milder cases were mistakenly denied or mislabeled, often with incorrect primary psychological diagnoses."
About Harold Levinson, M.D.:
Formerly Clinical Associate Professor of Psychiatry at New York University Medical Center, Dr. Harold Levinson is currently Director of the Levinson Medical Center for Learning Disabilities in Long Island, New York. He is a well-known neuropsychiatrist, clinical researcher and author. For more information, call 1(800)334-7323 or
visit: http://dyslexiaonline.com.