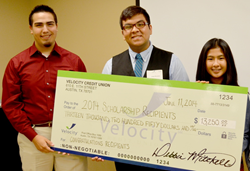 Austin, Texas (PRWEB) June 24, 2014
At this year's 21st annual scholarship reception, Velocity Credit Union awarded more than $13,000 to 11 local-area high school graduates and college students pursuing higher education. To date, the credit union has awarded 113 scholarships totaling more than $148,000.
The four high school graduates who each received a $2,000 scholarship were Kinzie Milare, a graduate of Cedar Ridge High School, who will attend Texas Tech University in the fall; Jorge Reynoso, a Crockett High School graduate, who plans to attend Texas A&M University; Zach Santos, a graduate of Round Rock High School, attending the University of Texas; and Jesus Aldape, Jr., Akins High School graduate, who will also head to Texas A&M.
"Each year, we are so impressed with the academic excellence and community involvement of so many of our young members. This year, the top candidates were so exceptional that the board of directors added an additional award," said Debbie Mitchell, president/CEO, Velocity Credit Union.
In addition, Velocity awarded seven "ongoing" scholarships to help previous winners continue their college education. These scholarships were awarded to Laura Longnecker and Maria Tovar, both from Texas A&M; Jasmine Washington, who attends the University of Texas; Ariel Frazier from Lehigh University in Pennsylvania; Victoria Andrews, who attends Texas Tech University; Ricci Bostick of Hampton University in Virginia; and Thomas Massad, who attends Georgetown University in Washington, D.C.
Velocity Credit Union is one of the Austin area's largest credit unions with five branches located in Austin and Round Rock. Chartered in 1947, the credit union serves a diverse field of membership that includes anyone in the five-county area, as well as dozens of select employer groups and associations. The credit union employs approximately 185 people in the area, has assets of approximately $660 million and serves more than 70,000 members.