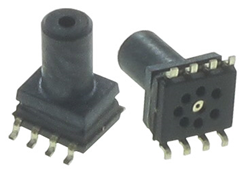 The ultra-small SM6842 is the smallest, ported MEMS pressure sensor on the market!
Milpitas, California (PRWEB) June 25, 2014
SMI (Silicon Microstructures, Inc.), a global leading developer and manufacturer of MEMS (Micro-Electro-Mechanical-Systems) pressure sensors for over 23 years, introduces the SM6842 MEMS pressure sensor designed especially for pressure switch designs and available in an absolute pressure range of 15 PSI (103kPa). The pressure sensor housing is based on standard surface mount technology and features a JEDEC compliant SOIC-8 footprint for straight-forward PCB design and assembly. The small footprint is 5 x 6 mm2 including the leads with a height of just 7.6 mm to the top of the port providing flexibility in space challenged designs with a typical 127 mV output for signal-conditioning customization.
The SM6842 with a vertical port enables interfacing with tubing or manifold designs for industrial applications such as pressure switches or vacuum measurement to space-constrained medical applications in Negative Pressure Wound Therapy (NPWT). The SM6842 is especially designed for OEM applications enabling cost-effective, large volume manufacturing. With a protective gel, the SM6842 enables the following applications:
INDUSTRIAL APPLICATIONS
• Pressure Switches
• Hand-held Gauges
• Digital Pressure Gauges
• Environmental Monitoring
• Compressor Controllers
MEDICAL APPLICATIONS
• Negative Pressure Wound Therapy (NPWT)
• Surgical & Respiratory Equipment
• Barometric Correction
• Pump Controllers
CONSUMER APPLICATIONS
• Appliances
• Sports Equipment
• Altimeters
FEATURES
• Operating Temperature Range: -40oC to +125oC
• Output: 127 mV @ 5V, 15 PSIA
• Voltage Supply: Up to 10 Volts
• Complies with RoHS and REACH requirements
"The ultra-small SM6842 provides customers with great design flexibility and performance for cost-sensitive and space constrained designs in the industrial, medical and consumer markets," notes Omar Abed, President and CEO at SMI Pressure Sensors. "As SMI looks to continue its push to innovate and expand its offerings to customers, we are excited to offer the smallest, ported pressure sensor in the market!"
SMI debuts the SM6842 at Sensors Expo 2014 just outside of Chicago, Illinois, on June 25.
About SMI
SMI is an ISO/TS16949:2009 certified premier developer and manufacturer of MEMS-based pressure sensors for a broad range of markets, with over 23 years of experience and expertise in low pressure and harsh environment pressure sensors that meet today's stringent requirements for medical, automotive and industrial applications. SMI's design, production and quality control processes have enabled it to develop both the most sensitive and smallest MEMS pressure sensors available on the market today.
SMI is a member of the worldwide Elmos Semiconductor Group, offering proven solutions to a range of industries, based on application-specific ICs, sensors and complete microsystems.