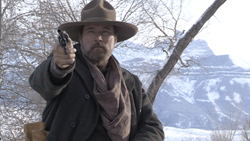 The right thing is the only thing to do.
Cody, WY (PRWEB) June 24, 2014
Unless you're watching carefully, you might miss Patrick Mignano's name in the credits rolling at the end of your favorite movie. Currently the supervising location manager for Warner Brothers Studio, Mignano has worked as location manager for projects like Gran Torino, Need for Speed, J. Edgar, Trouble with the Curve, Hangover II, CSI: Miami (television), and the newly-released Jersey Boys, to name just a few.
Absaroka refers to the mountain range in northwestern Wyoming, just west of Cody, Wyoming, where University of Montana film school graduate Mignano shot the movie. In the story, cowpunchers Howard Prescott and Lucius Blackledge head into town after months in a line shack, when they come upon an ambushed wagon on the Wyoming prairie in 1881. With the nearest aid days away, Howard and Lucius must make a decision—one that is likely to change their lives forever. The Wyoming Film Office called the film "gritty and thought-provoking, and explores the themes of frontier justice and vengeance." Mignano's tagline puts it this way, "The right thing is the only thing to do."
Working mostly with amateur actors and crew, writer/director Mignano shot the entire film in Park County. It also won best short film in the western/historical category at the 2011 Trail Dance Film Festival in Duncan, Oklahoma.
Because of the association of "Absaroka" with the Park County area, Mignano is premiering the film's sequel in the Coe Auditorium at the Buffalo Bill Center of the West at 7 p.m., Monday, June 30. The showing is free to the public, and moviegoers can meet the filmmaker at the cash-bar reception that follows.
Like the first film, "Absaroka Sins" is set in 1881 Territorial Wyoming—a "dramatic tale of crisis and conscience in the Old West." Mignano provides a synopsis of the sequel, writing, "A murdered deputy and an escaped prisoner send Sheriff Wilbur Crowley on the trail of an unknown assassin. When circumstances go from bad to worse, Sheriff Crowley turns to Rafter Seven cowhands Howard Prescott and Lucius Blackledge for help. Aided by fellow ranch hand Monty Wilson, they set out after the ruthless outlaw. As the manhunt unfolds, none of them could have predicted what would happen next."
View "Absaroka" on the Wyoming Film Commission's website. Check out the Center's website for all the latest in events and activities at the Buffalo Bill Center of the West.
Since 1917, the award-winning Buffalo Bill Center of the West has devoted itself to sharing the story of the authentic American West. The Center, an affiliate of the Smithsonian Institution, is now operating its summer schedule, open daily 8 a.m. – 6 p.m. For additional information, visit centerofthewest.org or the Center's pages on Facebook and Google+.