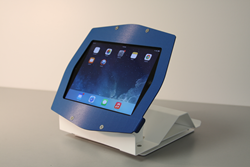 "The Evolution Stand will change the way tablet POS is looked at for years" -Trevor Orrick
San Luis Obispo, CA (PRWEB) July 01, 2014
The integration of mobile devices for Point of Sale transactions has proven its worth and is taking the world by storm. Tablet point of sale is expected to grow 95% in 2014 and expand to other platforms. Solve-It! Store's years of market knowledge and outstanding product design experience have resulted in, and we are pleased to announce, The Evolution Stand. A remarkable point of sale innovation designed to make the use of a tablet even more convenient and facilitate your front end transactions.
The sleek design and customization of the Evolution Stand is making a big impact in the market. Please take the time to compare its features and price to every other point of sale stand on the market. With 18 different color combinations between the nine face plates and two chassis color options, you have the opportunity to match almost any color scheme or taste. The Evolution is more than just looks, from concept to production the Evolution Stand has gone through countless revisions and refinements that all lead to the perfect balance of style and functionality. The clean lines and intriguing shapes bent from high quality powder coated steel and anodized aluminum are designed to last years into the future of any business. The innovative magnetic hinges allow for seamless 360 degree rotation and 100 degrees of viewing adjustment without set screws and locking points. Simply grab the stand and the quality will be obvious. The natural motion produced by the Evolution Stand is second nature to any cashier.
Although form and function have been paid equal attention, price point has not been over looked. Spending hundreds of dollars on a Point Of Sale stand is not something many businesses are excited about so keeping the price reasonable has always been a priority of Solve-it! Store. In fact, price point has been an important element as this product has evolved to the perfect point of sale stand. The largest retailers to the smallest mom and pop shops that utilize iPad POS will find a great product and incredible value in the Evolution Stand. Last but not least, the Evolution Stand can accommodate over 95% of the tablet market. It has been designed to hold iOS, Android and Windows tablets and virtually every card reader on the market. You will see and feel the pride we take in the quality and workmanship of this product, manufactured and assembled right here in the United States of America.