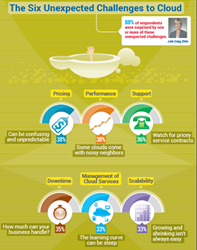 "Companies must be self-aware. Unless they have an experienced staff that can manipulate the mass-market systems of the big providers, they should seek cloud vendors that take a different, personalized approach." - Dennis Drogseth, vice president, EMA
Houston (PRWEB) June 24, 2014
Today iland, a leading enterprise cloud infrastructure provider, announced the findings of a new global survey conducted by Enterprise Management Associates (EMA) and commissioned by iland. The survey findings, published in a study titled, "Casualties of Cloud Wars: Customers Are Paying the Price," reveal that while tech giants fight cloud wars, customers are suffering from overwhelming cloud failure rates and multiple unexpected challenges.
The survey asked more than 400 professionals across the United States, Europe and Asia-Pacific to share their experiences with IaaS providers. The majority of respondents reported experiencing challenges and failures, though they continue to soldier on in the cloud. IT is moving forward with cloud because without it, keeping pace with the innovation needed to remain competitive in most industries is nearly impossible.
"Stories about successful cloud implementations are captivating, but the reality is that cloud is more complex than many news headlines make it out to be," said Dennis Drogseth, vice president, EMA. "Companies must be self-aware. Unless they have an experienced staff that can manipulate the mass-market systems of the big providers, they should seek cloud vendors that take a different, personalized approach."
"We didn't want to have to become cloud experts to get the benefits of cloud, and that's why we chose iland," said Lawrence Dixon, after sales business manager, EMEA at Leica Geosystems. "From many locations around the globe, our customers need to be able to access our precise geospatial positioning service, SmartNet, in real time, and we rely on iland's cloud to help deliver that capability. We rest easy knowing iland provides us with 24/7 support, and we can quickly evaluate our environment's performance, usage and projected costs with the ECS portal so there are no expensive surprises."
Key survey findings put spotlight on adoption trends and unexpected challenges

Respondents used an average of three cloud vendors, indicating an ongoing effort to find the "right" cloud solution, risk mitigation policies that require the diversification of providers, department-level fragmentation, and no pressing need to standardize on a single vendor.
In addition to commonly discussed cloud benefits like cost and rapid scalability, 49 percent of respondents view disaster recovery as a key advantage to hosting workloads in the public cloud.
Customers of VMware vCloud-based service providers report the highest success (67 percent) and lowest failure rates (33 percent), defined as stalled or unsuccessful (tried but failed) adoption.
Public cloud customers of Rackspace reported the highest failure rates (63 percent), followed by Amazon Web Services (57 percent) and Microsoft Azure (44 percent).
Eighty-eight percent of respondents experienced at least one unexpected challenge. Atop the list were pricing challenges stemming from complex pricing models and hidden fees that can rapidly counteract the cost-savings benefit of cloud. Performance issues, which can be experienced with some cloud platforms, were also concerning.
Cloud successes and failures underscore need for superior support and platform functionality
Based on the findings, it is clear those who have experimented with cloud have developed a keen understanding of where their teams need help and what capabilities are required to make cloud more accessible. Learning from their experiences, companies can avoid pitfalls by evaluating internal resources upfront—including technology, personnel, expertise and budget—and assessing how a cloud vendors' services, support and functionality address specific needs.
Eighty percent of respondents reported they required some amount of professional services to get started in the cloud in key areas like: security/compliance (57 percent), integration with existing data center services (47 percent) and disaster recovery planning (45 percent).
Better VMware vSphere integration was cited as a requirement by 45 percent of respondents. Lack of integration can vastly complicate management of both a VMware on-premise environment and a differing public cloud platform.
Forty-six percent noted the need for improved virtual machine scaling and resource scalability capabilities. Scalability, both of individual VMs and the entire cloud footprint, is core to the promise of cloud but far from straightforward in most clouds.
Fifty-two percent of respondents expressed the need for better management dashboards. Currently, many public cloud vendors do not provide visibility into detailed real-time and historical data on performance and billing, complicating the management of public clouds and associated budgets.
Ninety-eight percent agreed that high quality, highly available phone-based support is critical to their cloud implementations. Many public clouds offer separate, costly support contracts that both surprise customers and negatively impact cost reduction goals.
APAC, EMEA and U.S. respondents agree (97 percent) that targeting workloads toward data centers in specific regions for compliance and data sovereignty is important or very important. This, too, is offered at a premium with most clouds.
Forty-three percent of respondents called for more transparent pricing, emphasizing the challenge of inscrutable and multi-faceted cloud pricing models and the resulting bills.
"Every day, potential customers come to us with stories about their frustrating experiences with public cloud, and it's that close interaction that fuels our commitment to create more positive outcomes," said Dante Orsini, SVP at iland. "We commissioned this survey to get quantifiable insights into the global reality of companies' challenges, successes and failures with cloud. Now, we are sharing these results to help inform others as they move to the cloud."
"While the 'big box' players often make cloud short lists, the relative success with VMware Cloud-based Service Providers points to keeping an open mind to the differentiated offerings of those outside the fray," said Julie Craig, research director, Application Management.
For more information on the EMA survey and iland's Enterprise Cloud Services:

About iland
With data centers in the U.S., U.K. and Singapore, iland delivers proven enterprise cloud solutions that help companies do business faster, smarter and more flexibly. Unlike any other provider, iland's technology and consultative approach mean anyone–regardless of expertise, location or business objective–can experience the benefits of a hassle-free cloud. From scaling production workloads, to supporting testing and development, to disaster recovery, iland's secure cloud and decades of experience translate into unmatched service. Underscoring the strength of its platform, the company has been recognized as VMware's Service Provider Partner of the Year, Global and Americas. Visit http://www.iland.com.
# # #