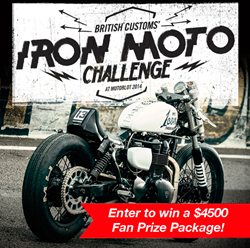 Gardena, CA (PRWEB) June 24, 2014
The Iron Moto Challenge builds are complete and now it's the fans turn to weigh in on their favorites. Fans are encouraged to vote on the build they like best by July 1, 2014 and they will be entered into a drawing for a prize package worth $4,500 provided by British Customs, ICON 1000 and Raen. The people's choice will be added to the judges' scores to determine the winner of the Triumph Motorcycles X British Customs Iron Moto Challenge at Motoblot 2014.
Click Here to Vote on the Iron Moto Challenge Builds and Be Entered to Win
Two weeks ago, four Chicago area Triumph dealers were given a bone stock Triumph motorcycle and were charged with the task of preparing these bikes for the Iron Moto Challenge. They were to prep the bikes by chopping, fabricating, installing performance upgrades, and doing paint and body work. The only rule was that they must install a British Customs parts package live on the streets of Chicago at the Motoblot Show, demonstrating how any Triumph owner can upgrade their bike with bolt-on BC parts using basic tools.
The teams from Motoworks Chicago, Northern Ohio Triumph, Team Triumph of Wisconsin and Windy City Triumph all threw down, right in front of the audience, to create an incredible atmosphere and crank out some impressive and totally unique custom Triumphs in the process. These builds came to life in front of the eyes of thousands of people as each crew completed their installs and put the finishing touches on their bikes. The teams got underway just after noon, and each team successfully installed their BC parts packages and completed their builds in the allotted five hours or less. To see how easy it is to customize a Triumph, click here to shop by bike build and view the new British Customs Parts Packages.
Motoworks Chicago | Johnny Scheff | Triumph Speedmaster | "Calle Maton"
Johnny Scheff led the Motoworks Chicago team as they turned their Triumph Speedmaster into a "flame throwing" bobber named "Calle Maton" (Street Thug)
Northern Ohio Triumph | Carl Peshof | Triumph Thruxton | "Elysium"
Carl Peshof and the folks at Northern Ohio Triumph aimed for a retro style with a modern flair, and came out with a beautiful Thruxton creation called "Elysium"
Team Triumph | Todd Ligman | Triumph Bonneville | "Gypsy"
Todd Ligman led the Team Triumph crew as they transformed their Triumph Bonneville T-100 into an old school look back into history, dubbed "Gypsy"
Windy City Triumph | Ken Rudoy | Triumph Bonneville | "Simple Green"
Ken Rudoy and the guys from Windy City Triumph demonstrated that even with a limited budget you can customize a Bonneville and make it your own.
Iron Moto Challenge judges Brian Klock of Klock Werks Kustoms, Christy Lee of All Girls Garage, Julian Heppekausen of Deus Customs and Kevin Dunworth of Loaded Gun Customs perused the competition area examining the builds and chatting with each of the crews. When five o'clock rolled around each build had been completed and brought over to the main stage for a final examination by the crowd and judges. On July 1st voting will end, scores will be tallied, and a winner for the the Iron Moto Challenge build-off will be determined.
Click Here to Vote on the Iron Moto Challenge Builds and Be Entered to Win
Vote now to help determine the Iron Moto Challenge winner and voters will be entered into a drawing for a fan prize package valued at $4,500 consisting of:
$1,500 Cabo vacation package courtesy of Raen
$1,500 British Customs parts package
$1,500 of ICON and ICON 1000 apparel
Don't miss out on this opportunity weigh in on these bikes. Visit http://www.British-Customs.com to learn more about how to upgrade a Triumph motorcycle, and follow British Customs on Facebook, Instagram and Twitter for the latest Iron Moto Challenge updates.