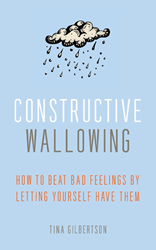 "Crying, punching your pillow and screaming are all healthy ways to deal. (Just don't kick the cat)." —Health Magazine
(PRWEB) June 24, 2014
Daily Om featured an excerpt from Tina Gilbertson's new book Constructive Wallowing as one of their Library Picks recently. Gilbertson, a Licensed Professional Counselor, explains that by learning to accept and embrace, rather than suppress difficult feelings and "keep calm and carry on," people can keep their sense of personal power and, better yet, gain greater understanding and ultimately esteem for themselves. Feeling bad can actually lead to feeling better, faster.
"You can either keep wrestling with your emotions and yourself, or you can accept yourself no matter how you feel. If you choose the latter, you'll not only experience the relief and delight of genuine self-acceptance, but you'll finally be able to truly "let go" of your stickiest emotions. This is how a person can use wallowing to work on healing even lifelong emotional pain," writes Gilbertson.
Gilbertson is touring Seattle this week. Meet her at these events:
6/24: Third Place Books, Lake Forest Park - 7pm
6/25: Barnes and Noble Downtown Seattle - 3pm-5pm
6/26: University Bookstore - 7pm
6/29: Eagle Harbor Books, Bainbridge, WA - 3pm
About Viva Editions
Viva Editions are books that inform, enlighten, and entertain. The very name, "Viva!", is celebratory. And while Viva Editions is a line of books that are as fun as they are informational, the intention behind Viva is very serious—these are books that are truly helpful and intended to enhance people's lives.