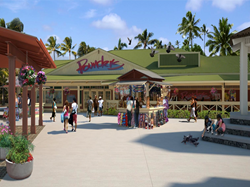 Laie, Hawaii (PRWEB) June 24, 2014
An impressive new variety of Polynesia-inspired dining, retail and product offerings is coming to the North Shore in the New Year with the opening of the Hukilau Marketplace at the Polynesian Cultural Center (PCC).
Scheduled to open in January 2015, the Hukilau Marketplace will be placed out front of the PCC and be easily accessible to anyone making the scenic drive on Kamehameha Highway. Admission and parking (with validation) will be free as visitors and residents shop, eat, or simply stop to stretch their legs from a day of sightseeing on the North Shore. There will be also free, live entertainment to enjoy on a regular basis.
"The Hukilau Marketplace is a huge undertaking for the Polynesian Cultural Center and a first for us, as people will be able to come and experience a piece of Polynesia's culture without having to pay admission," said Alfred Grace, President & CEO of the Polynesian Cultural Center. "We've put a lot of research, planning and thought into offering foods, products and a quality of experience reminiscent of the sights and tastes of old Laie, making a daytrip to the North Shore even more worthwhile."
Encompassing 119,000 square feet and positioned closer to Kamehameha Highway, the Hukilau Marketplace is being built partially on underused parking spaces and blended into an underutilized section of the PCC grounds next to the Pacific Theater, site of the award-winning Ha: Breath of Life evening show. Entering through the PCC won't be necessary as the Hukilau Marketplace will have its own separate entrance and be open for longer hours, 10:00 a.m. – 10:00 p.m., Monday through Saturday.
The diversity of new shops, dining options and product offerings (examples below) will appeal to both visitors and residents and make a daytrip along the North Shore's windward side even more enjoyable. Notably, the Hukilau name and the dining and retail offerings is a tribute to Laie's fascinating heritage and longstanding legacy of cultivating the people and culture of Polynesia. In fact, the hukilau was the inspiration for creating the PCC experience, which opened in 1963.
Long before the PCC was established, fishermen in Laie used to "hukilau" or throw nets around schools of fish, then bring them to shore for the community to enjoy.
The hukilau became a popular, impromptu luau experience for visitors in the 1940s and 1950s. They would come to Laie, watch the netting of fish, then enjoy the feast and music with community members on the beach. The experience was so enjoyable, it led to a catchy tune, The Hukilau Song, composed in 1948. ("Oh, we're going to a hukilau, a huki, huki, huki huki, hukilau. Everybody loves a hukilau, where the laulau is the kau kau at the big luau…")
Grace added, "Everything about the Hukilau Marketplace will be true to our community, with many specialty foods and goods that aren't readily available elsewhere on Oahu. It's being designed to appeal to visitors and residents alike with an experience that is in keeping with our celebration of Polynesia's culture and people."
New Retail, Dining, Entertainment Offerings
Following is a preliminary listing with short descriptions of the dining and retail offerings being introduced at Hukilau Marketplace in January 2015. A more complete listing of information and website will be available closer to the opening date.

Pounder's Restaurant – Full-service restaurant serving island-inspired entrées for lunch and dinner (and eventually breakfast, at which time it will open at 6:00 a.m.).
Polynesian Bakery – Offering traditional Polynesian baked favorites, such as meat pies, panipopo, malasadas, etc.
Roulotte Court – Providing a Tahiti-inspired "street eats" experience, with plates of steak, chicken and fish served from food trucks.
Confection Store – Offering chocolate-dipped treats, cookies, and candies.
Food/Retail Kiosks and Carts – Spread throughout the marketplace, this kiosks and carts will provide various offerings, such as barbecue plates, specialty hot dogs, crepes, frozen custard (such as lilikoi and haupia), baked goods, as well as Polynesian handicrafts, local artwork, community t-shirts and headwear, etc.
Laie General Store – Offering souvenirs, gifts, and handy items of convenience.
Hapa Home Store – Offering specialty home furnishings and lifestyle products.
Free Entertainment – This open stage area located in front of Pounder's Restaurant will present guests with live performances of music and dance on an ongoing basis.
In addition, PCC is finalizing contracts with vendors to provide the following: ukulele shop; high-end Hawaiian jewelry; sports/outdoor activities (ocean sports and bicycle sales, rentals, etc.); specialty burgers; ice cream; lunch wagon; and shrimp truck.
A few leasing opportunities are still available. Providers of quality products and services consistent with what the Hukilau Marketplace is offering can contact the PCC for more information.
For more information about the PCC or to make reservations, please visit http://www.Polynesia.com or call (800) 367-7060. On Oahu, call (808) 293-3333.
About the Polynesian Cultural Center
Located on Oahu's beautiful North Shore, the Polynesian Cultural Center (PCC) is the only cultural tourist attraction of its kind in the world and a favorite of all visitors to Hawaii. An engaging, interactive celebration showcasing the people, culture, arts and crafts of Polynesia, the PCC has entertained more than 37 million visitors from around the world in its first 50 years (1963-2013). A non-profit organization, 100 percent of PCC's revenue goes to daily operations and to support the education of its student-employees from neighboring Brigham Young University-Hawaii.
# # #