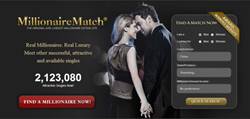 Los Angeles California (PRWEB) July 29, 2014
MillionaireMatch.com has increased its Gold membership fees by $10 per month. The site will now charge its members who opt for the Gold plan a monthly fee of $70. The online platform is a luxury dating website that allows its members to connect and date rich and successful millionaires including celebrities, successful lawyers, doctors, models, CEOs and other entrepreneurs.
MillionaireMatch.com has consistently been offering user-friendly and effective dating services to its members for years. Its services and plans have helped many millionaires in the past when it comes to finding their love partners. The site aims to enhance the level of service by introducing a luxury guide blog as well as a rich and filtered database of information. While the improvement in member database would mean better options to consider when looking for a life partner, the luxury blog would guide the members on a number of related aspects including points to consider while looking for a partner on the platform and the correct method to follow.
The company would also be offering the most recent information about reputed and luxury brands to fulfill the needs of its members. This hugely successful dating website is also gearing up to release a new version of IOS within the next month in order to make it easier for the members to log in and surf the site. The new version is expected to include a number of innovative and useful features. The price rise is related to the introduction of new and improved features and services.
When contacted, a spokesperson from this millionaire club said, "Yes, we are increasing the fee of the Gold membership plan by $10. The reason is that soon we are going to bring a luxury blog for our members that will provide them great ideas and suggestions about luxury items, relationships and dating." He further added, "We are the number one dating website for millionaires that helps them meet with their rich and wealthy partners. We will be offering many more exclusive updates for our members in the near future."
About MillionaireMatch.com
MillionaireMatch.com has been voted as one of the best luxury matchmaking sites on web by Forbes, the leading magazine in world. The dating website has several wealthy members including Hollywood celebrities, lawyers, beauty queens, CEOs, investors, fitness models, pro athletes, entrepreneurs, doctors and many others. The members of this high profile dating site love to talk about luxury and successful life, and share photographs with other members.