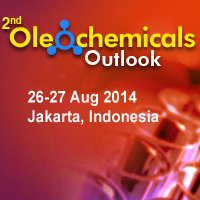 The summit will focus on vast opportunities in the Asian region, increasing demand for renewable and sustainable products, rise in palm oil production, biodiesel mandate in Indonesia and more.
Jakarta, Indonesia (PRWEB) June 25, 2014
Slated to be an excellent platform for oleochemicals players from across the world, particularly Asia, the Jakarta summit promises to address a variety of issues facing the industry, plus experience sharing sessions by end users such as Unilever and Evyap. Biswaranjan Sen, Vice-President – Chemicals Procurement with Unilever will deliver a presentation on 'Transforming the Palm Oil Industry' while Tanuj Roy, Managing Director at Evyap Asia Pte Ltd will share a 'Global Perspective on Fatty Acids In Bar Soap'.
Also in the agenda are sessions reflecting on sustainability in palm oil sector to be addressed via topics on 'An Integrated and Sustainable Palm Oil Strategy' by Mr. Steve (King An) Goei, Vice President/ COO, PT. Socimas; 'RSPO – Moving Towards Sustainability and Traceability' by Ir. Qua Kiat Seng, Advisor, ASEAN Oleochemical Manufacturers Group (AOMG) and 'Developing Higher Value Downstream Products From Sustainable Oil Palm' by Dr. Hirzun Mohd Yusof, Vice President, Sime Darby Plantation Sdn Bhd.
Other topic highlights include:

Global Overview of Oleochemicals Market – Mr. Chris de Lavigne, Global VP, Industrial Practices, Frost & Sullivan
China Fatty Alcohol Industry Facing Doom – Dr. Douglas Furtek, Director, Operational Innovation R&D, Teck Guan Perdana Berhad
Global Economic Outlook – Ms. Destry Damayanti, Chief Economist, PT. Bank Mandiri (Persero) Tbk
Feedstock Scenario – Demand/ Supply & Sustainability – Ms. Khor Yu Leng, Head of Research – SEA, LMC International Ltd
The Use Of Crude Glycerol From Biodiesel Production In The Conversion Of 1,3 Propanediol For Bio Plastics – Mr. Josef Modl, Executive Vice President, Vogelbusch GMBH
Biodiesel Industry Outlook – Mr. M.Aslam Kalyubi, Head of Technical Division, Indonesian Association of Biofuel Producers (APROBI)/ President Director, Multi Energi Nabati
Eco-Friendly Surfactant MES For Laundry Detergents – Mr. Hiroshi Kimura, R&D Manager, Lion Eco Chemicals Sdn Bhd
Growth Prospects and Technology Innovations in Specialty Esters – Mr. Lange, Ralf, CEO/ Owner, Inventa Technologies (S) Pte Ltd
Glycerine-based ECH production & its impact on glycerin supply/demand balance – Ms. Pan-usa Kongmunwattana, Economic & Competitive Intelligence Manager, Vinythai Public Company Limited
The 1.5 day summit is expected to bring together suppliers and producers from across the oleochemicals value chain, from feedstock to product application, including CEOs, VPs, General Managers, Business Development Directors/Managers, Product Managers, Global Purchasing Directors/ Managers, Supply Chain Directors, Logistics Managers, Sourcing Directors/Managers, Marketing Managers, Sales Managers, Brokers, Consultants and R&D Managers.
Visit 2nd Olechemicals Outlook website for more information or Contact Ms. Grace OH at +65 6346 9147.