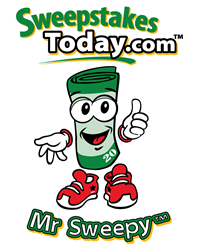 (PRWEB) June 25, 2014
Daniel Hamilton of Pittsburgh, Pa notified SweepstakesToday.com on June 19 that he won the coveted Grand Prize of a "slightly used 2012 Stratos 189VLO (18' 9") bass boat" plus trailer, a 150hp Yamaha outboard and a YETI Roadie 20 cooler. The prize, awarded by Game & Fish magazine, is valued at well over $30,000 which made him a member in the site's famous 10K Club, consisting of people who have won $10,000 or more through the popular sweepstakes site.
Hamilton, an avid fisherman, submitted a picture of his father celebrating his 79th birthday with fishing at a lake near Townville, PA. The lake is owned by Daniel's brother, Fred.
The photo, accompanied by text also written by Daniel Hamilton, was chosen at random from a group of the 25 most 'liked' pictures through a Facebook vote. The picture and text can be viewed on the Game and Fish Magazine site.
Hamilton sees the win as the end to a string of bad luck he's had, including the loss of a job after serving for 13 years in full time Hospice Chaplaincy and a severe leg injury.
Asked about winning he said, "…I think for me the human element of faith, overcoming adversity, having a strong family in the midst of it all, and knowing that various winnings have helped me in difficult times are the highlights for me."
Not only did Daniel win, but he's about to start a new job in a one year paid Chaplain Residency at West Virginia University Ruby Memorial Hospital Morgantown, WV while he earns the balance of the credit he needs to complete his Clinical Pastoral Education. Hamilton plans to apply to be a Board Certified Chaplain, the standard for Hospital Chaplaincy and to serve in that capacity.
The winner has been sweeping from SweepstakesToday.com since 2007, he said in an interview today.
"I like the site," he added, "because it has helped (me) provide (for) needs during difficult times. It is very user friendly, has the best and most legitimate sweeps, and I have won many prizes including trips, cash, visa cards, store cards, etc."
Hamilton estimates this win puts him over a total of $50,000, he reported.
Sweepstakes Today LLC was launched online in March of 2004. The popular online sweepstakes website site is based in Tulsa, Oklahoma and the custom Microsoft ASP/ASPX programming development is done in Salt Lake City, Utah. The website has now published over 46,000 sweepstakes, contest and giveaways.