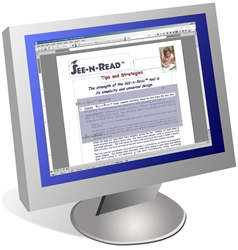 College administrators say that the eSee-N-Read™ helps students as they read online and conduct research via the Internet.
Aurora, IL. (PRWEB) June 25, 2014
In today's learning environment, educators are finding that digital devices hold benefits for engaging students in learning. However, they also have discovered two unique learning challenges that are now surfacing when students read using a computer or digital device:
1. People read up to 30% slower online than on paper. This position is supported by research conducted by by P. Zaphiris, and S.H. Kumiawan, Wayne State University (http://bit.ly/1oJT2wW)
2. Reading comprehension appears to be suffering as students read content online. This position is supported by Benjamin Herold in an article in the May (2014) issue of Education Week, in which he states "…Comprehension may suffer when students read on the digital devices now flooding into classrooms, an emerging body of research suggests." (http://bit.ly/1qPXf49)
eSee-N-Read™ for PCs is a research-based digital learning support tool based on a patented design that improves students':

Reading fluency and comprehension
Left to right tracking and right to left visual sweeping to the next line
Control of visual fields as they read online
Accuracy of on-line data input
Fatigue and eye-strain
eSee-N-Read™ is a user-friendly, downloadable tool for PCs that helps users of any level as they read, study, and take standardized tests online. It is based on the patented design of the See-N-Read® Learning Tools suite of products from CadenaSmith Enterprises, Aurora IL (http://www.see-n-read.com ). It is available as an individual download or as site licenses.
eSee-N-Read™ is effective as an instructional tool. It works well as an instructional tool with interactive white boards and projectors to focus student attention on key points during lecture or class discussion since the shade can be modified to manage visibility of irrelevant information. Multiple eSee-N-Read™ tools can be active simultaneously in a screen and with a variety of programs (Word, Excel, PDF, internet, etc.).