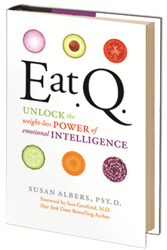 Learn strategies you can do in less than five minutes to keep your clients coming back, help them successfully reach their goals and transform you into their favorite professional.
Cleveland, Ohio (PRWEB) June 24, 2014
Dr. Susan Albers, clinical psychologist and author of the book, EatQ (HarperOne, 2013), Eating Mindfully, and 50 Ways to Soothe Yourself Without Food is providing a free webinar on June 30th at 7:00 EST for professionals who work with clients on losing/managing weight and improving their eating habits and diet.
The title of the webinar is 11 Unintentional Mistakes Professionals Make When Talking To Their Clients About Weight/Healthy Eating and Quick Fixes. It is intended for dietitians, physicians, nurses, psychologists, counselors, trainers, yoga instructors, coaches and physical therapists.
If a professional's practice is not performing as well as it could, chances are he or she may be making one of these 11 mistakes. By applying these strategies it will help:
1) Make Sure That Clients Keep Coming Back
2) Deliver Effective Ways to Help Clients Be More Successful in Their Goals
3) Learn How to Be Your Client's Favorite Coach & Health Care Professional
Talking to patients and clients about healthy, mindful eating isn't easy. Dr. Albers will reveal effective, quick ways to make it a productive and helpful conversation. Dr. Albers recognizes that professionals only have a few minutes to make a big impact.
Susan Albers has been a psychologist for 10 years at one of the top ranked medical facilities in the country. Dr. Albers graduated from the University of Denver and completed a post-doc at Stanford University. She trains health care providers on communication and how to teach your clients mindful eating skills. She is a leading authority on mindful eating. Dr. Albers has been quoted in Self Magazine, Shape, Prevention, NPR and has been on Dr. Oz.
Sign up today to be registered for this event and future free webinars for professionals and your clients through http://webinarjam.net/webinar/go/2646/5c698d677b.