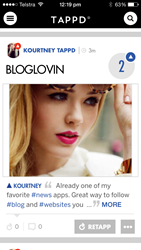 TAPPD wants to be the app that personalizes app discovery.
Melbourne, Australia (PRWEB) June 24, 2014
Launched as a beta release at MacWorld 2014, Australian mobile start-up TAPPD releases the first major update to its app discovery platform for IOS.
TAPPD wants to be the app that personalizes app discovery by making it easy for people to 'tap into' personal recommendations from friends, experts and influential people.
By crowdsourcing the latest news, tips and opinions, TAPPD aims to help its users find the most talked about apps amongst the 1.2 million apps on the App Store. "By tapping into the knowledge people have on apps, this provides a great way to identify the hidden gems out there." says Co-Founder Tony Coiro.
A new look Home feed encourages users on TAPPD to build their own network of friends and app influencers giving them the latest app recommendations. A separate Discover feed highlights what's trending and the latest apps being shared by people with the same interests.
The introduction of a 'Top Tappers' feature aims to give experts and influencers the ability to reach a global community of app enthusiasts. "By highlighting top contributors and the content they're sharing, we make it easy for any user who joins TAPPD to be immediately rewarded with great app recommendations." says Co-Founder David Duncan.
If a user likes what someone shares on TAPPD they can now 'retapp' that post to their own followers. "We felt it was important to reward our top contributors by making their content easily sharable with our new retapp feature." says Duncan.
TAPPD is available on the iTunes App Store HERE
For more information, visit tappd.in or follow TAPPD on Facebook and Twitter.
About TAPPD:
TAPPD is a social network for app discovery on IOS. Our mission is to make it easy for people to find their next favorite app by 'tapping into' an entire world of personal recommendations.
Contact:
David Duncan
TAPPD Co-Founder
david.d(at)tappd(dot)in