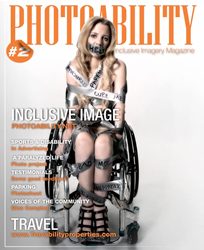 It is our hope that positive imagery used in strategic ways by advertisers who value their customers with disabilities will lead the way to a more inclusive world
(PRWEB) June 25, 2014
PhotoAbility has announced the launch of their new magazine, Inclusive Imagery. The goal of the publication is to bring to life through images and educational stories how people with disabilities live their lives, while showcasing to advertisers, companies and publishers the type of images available through the PhotoAbility.net Stock Image Library.
The magazine is now available in digital format. The publication is full of exceptional imagery capturing the life and daily undertakings of those affected by disability. "Disability Inclusive Imagery" is the unique niche that PhotoAbility has chosen to enter, with the mission of bringing these type of images into the mainstream.
This issue provides content that gives readers a unique and in-depth look at prevalent issues with features on:

Sports and the important role it has begun to play in the health, self-esteem and perceptions of disabled athletes
"Voices of the Community," a forum for powerful members of the disability community to speak up and out on issues of importance
"A Paralyzed Life" Photo Shoot Project in partnership with Rachelle Friedman (known in Media as "the paralyzed bride") representing PhotoAbility.net. This is to benefit funding and research for SCI and its related issues, and to promote the inclusion of individuals with disabilities in media and advertising
New Accessible Travel website that provides info on rentals, swaps and sales throughout the world
Handicapped Parking Abuse and how it affects those who truly need it for independence in the community
Testimonials from photographers, models and leaders on the Inclusive Imagery Gallery
PhotoAbility feels that powerful messages imparted through imagery will bring about important social change with increased access and rights. Its Stock Image Library represents over one billion persons with disabilities worldwide, whose spending power has a substantial impact on travel and lifestyle economies all over the world. This demographic is rarely seen or acknowledged in advertising and editorial images. Why is a small, yet powerful and growing segment of society not being seen or represented as consumers?
The goal of the Image Library and magazine is to increase the usage of positive imagery reflecting the real lives of people with disabilities, encouraging further inclusion. The imagery contained within the pages have the effect of helping to eliminate the fear and negative stereotyping that so often permeates all levels of society.
"The goal of Inclusive Imagery is about access," says Deborah Davis, Co-Founder of PhotoAbility. Deborah sustained a spinal cord injury at 18, resulting in incomplete quadriplegia and is herself a mother of two girls. "While many of us have had wonderful experiences despite our disabilities, and live in communities that have chosen to remove structural barriers and accommodate our needs, that is simply not something we can take for granted. These rights have not been afforded to so many in our world who are waiting for equal access and freedom. It is our hope that positive imagery used in strategic ways by advertisers who value their customers with disabilities will lead the way to a more inclusive world."
PhotoAbility was established in March 2012 by Deborah Davis and Bill Forrester with the goal of providing high quality, unique, non-medically oriented imagery of persons with disabilities for purchase by the advertising, marketing and media sectors. The Commercial Stock Image Library specializes in positive and "Inclusive" images of people with a disability in leisure, lifestyle and travel settings.
The 2000+ inclusive images depicted in the PhotoAbility gallery are designed to impact attitudinal bias, change perception and provide motivation to eliminate social, structural and professional barriers. A wave of change reflected in popular media and advertising can make an impact on laws and attitudes around the globe, and on how many people with differing abilities view themselves.
For more information and to view PhotoAbility.net's positive, inclusive Stock Images, please visit http://www.PhotoAbility.net.