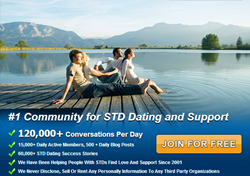 Los Angeles California (PRWEB) June 25, 2014
A hot debate has recently taken place on PositiveSingles.com, which represents one of the biggest dating communities for people who are living with sexually transmitted diseases such as Herpes, HIV, HPV, and more. The debate was related to whether people who are HIV-positive should ask their lovers to sign a written confirmation of disclosure before being in a relationship.
This question comes in response to the many cases where, after breaking up with a person who is HIV-positive, a number of people who are uninfected file criminal charges stating that they weren't told about the disease. With this in mind, people wonder whether a consent form should be mandatory before any sexual relationships or if word of mouth is enough to trust one another.
71.88% of the members who have taken part in the discussion stated that a written consent leaves no room for debate. This most likely comes as a response to the fact that, after breaking up, people who have been in a relationship may try to ruin one another's lives. To stop this, a written consent would do the trick, as it legally proves that the other party knew of the person's infection with HIV.
The other 28.12% of members believe that having a written consent makes relationships seem more like a business rather than what they should really be. Although the opinions are quite interesting, trust is the most important factor in having a successful relationship, and the lack of it can cause damage to both parts.
"Whether or not you are living with a sexually transmitted infection or disease, communication is an integral component to a healthy relationship," said Jenelle Marie, Spokesperson for PositiveSingles.com. "In both online and offline dating environments, developing a relationship that is not only physical but that which includes a significant level of communication and trust helps make sharing intimate details with one another less worrisome and can ease the concern of severe repercussions upon a relationship's ending."
About PositiveSingles.com
PositiveSingles.com represents the world's largest and most trusted dating site for people who are living with sexually transmitted diseases of all kinds. The site is anonymous and puts a large emphasis on each member's anonymity and privacy, unlike other sites, making it trustable from all the points of view.
If you want to interview PositiveSingles.com or write press release for PositiveSingle.com, please feel free to contact at the Spokesperson for PositiveSingles.com at: mediapress(at)successfulmatch(dot)com.