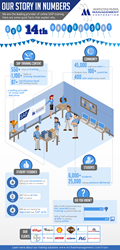 MMC has delivered 25,000+ training sessions to over 6,000 students and over 200 companies.
San Diego, CA (PRWEB) June 24, 2014
Michael Management Corporation (MMC), a leader of award-winning SAP training solutions, is celebrating its 14th anniversary. It was over a decade ago that CEO Thomas Michael started MMC with only a single online SAP training course. Today, MMC offers a total of 90+ certification-level SAP courses to companies around the world.
MMC continues to expand its global reach, providing Fortune 500 brands hands-on training in practical SAP know-how. With over 1,100 hands-on lessons, MMC offers the largest SAP eLearning catalog on the market. So far, MMC has delivered 25,000+ training sessions to over 6,000 students and over 200 companies. The company develops and releases 1-2 new certification courses each month and is on track to reach 100 SAP eLearning courses by the end of the year.
"It's thrilling to see how far we've come in these past 14 years," said CEO Thomas Michael. "I remember how excited we were when the first students signed up for our state-of-the-art eLearning at a time when most people hadn't really heard about it. Now we have over 45,000 registered users on our website and are leading the eLearning market in the SAP space!".
MMC continues to push the envelope when it comes to eLearning design and has added many features to its training solution that are rarely seen in the SAP training market. These features include new gamification and social learning elements as well as human narration audio, interactive hands-on simulations, downloadable study guides and verifiable certifications.
To learn more about Michael Management Corporation's online SAP training solutions, please visit: http://www.michaelmanagement.com/sap-training.asp.
About Michael Management Corporation
Michael Management Corporation is a leading provider of SAP training, SAP access and recognized expert SAP consulting services. The company provides an unmatched level of SAP product expertise and consulting experience. Michael Management's online SAP training courses are used by many Fortune 500 companies around the world to train their users on SAP know-how. For more information, visit http://www.michaelmanagement.com.
Michael Management Corporation (MMC), the MMC Logo and the MMC Swoosh are registered or unregistered trade and/or service marks of Michael Management Corp. and are protected by US and international copyright laws. All other names, brands, logos, etc. are registered trade or service marks of their respective owners. MMC is not affiliated with SAP AG.