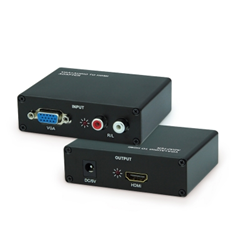 (PRWEB) June 25, 2014
Recently, Hiconn Electronics, a well-known China electronics accessory manufacturer, has unveiled its new range of VGA+R/L Audio to HDMI Converters. Additionally, the supplier has s launched a site-wide promotion for its great electronics accessories. According to the company's senior spokesman, almost all its items are now offered at discounted prices, up to 32% off. The special offer will be valid until July 03.
"We are pleased to announce the new collection of VGA+R/L Audio to HDMI Converters. We launch the big sale to expand our online market and celebrate the World Cup. All our specialists have rich experience in making high end electronics accessories. A lot of our items have been highly appreciated and praised by the global distributors," the senior spokesman says.
Here is some detailed information about the company's brand new VGA+R/L Audio to HDMI Converters:
--Compliant with HDMI 1.3
--VGA input: 640*480@60Hz, 800*600@60Hz, 1024*768@60Hz, 1280*720@60Hz, 1280*768@60Hz, 1280*800@60Hz, 1280*1024@60Hz, 1360*768@60Hz, 1600*1200@60Hz, 1920*1080@60Hz, 1920*1200@60Hz
--Audio for input – 3.5mm
--HDMI output – upto 1080P
--Coming with certified 5V 1A power supply
--Retail paper box
As a matter of fact, the famous manufacturer has thousands of high quality products in stock and ready to ship. It is popular in the current market for excellent items, great service, fast delivery as well as competitive prices. Its practical items include 1.4V HDMI Splitters, HDMI Cable Right Angles, 1x8 Hdbaset HDMI Splitters and many others.
About Hiconn Electronics
Hiconn Electronics (Shenzhen Hiconn Electronics Co. Ltd.) is devoted to designing and manufacturing a wide range of connection cables and customized cable assemblies, offering many HDMI cables, VGA cables, SATA cables, USB cables, 1394 cables, DVI cables, SCSI (Small Computer System Interface) and more. For more information, please visit http://www.hiconn.net/.
Contact Person: James Yin (Sales Director)
Company Name: Shenzhen Hiconn Electronics Co., Ltd.
Address: Shenghua Building., Xixiang Road., Baoan District, Shenzhen, Guangdong Province, China
Zip Code: 518102
Tel: +86-755-8109 8345
Fax:+86-755-2779 3497