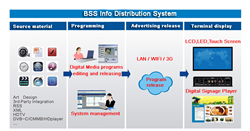 (PRWEB) June 25, 2014
Recently, Digital-Signage-China.com, a leading digital signage software supplier, has unveiled its new selection of BSS Info Distribution Systems. According to the company's marketing specialist, these new systems are available at discounted prices, up to 28% off. The promotion will come to an end on July 03, 2014.
As a matter of fact, most of Digital-Signage-China.com's digital signage products are popular in the current market. There are more than 1000 items in the collection, and each of them is extremely practical. To attract more clients and celebrate the World Cup, the company also provides discounted shipping fees for all people.
The company's chief executive officer says, "We are happy to unveil our new designs of BSS Info Distribution Systems. I hope our new and old clients will enjoy using them. At the moment, all distributors don't have to pay a lot of money to get what they need. On our website, we also offer other excellent items like DSP-100V Digital Signage Players and 42 inches Floor-Standing Digital Signage LCD Advertising Players."
"Furthermore, all clients can talk directly with our online workers. Please note that the cheap BSS Info Distribution Systems are not available forever. Customers who want to enjoy the special offer should visit our website as soon as possible," he adds.
About Digital-Signage-China.com
Digital-Signage-China.com is a well-known digital signage technology company with the eligibility of production, installation and maintenance of digital signage products. The company has much experience in the industry, and its customers are provided with the best resources and professional tips. It aims to offer all kinds of high end digital signage products for the global market.
For more information about the business and its digital players, visit http://www.digital-signage-china.com/.