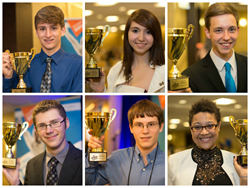 Atlanta, Georgia (PRWEB) June 24, 2014
Certiport (http://www.certiport.com), a Pearson VUE business, the leading test delivery solution provider for the global workforce and academic markets, today announces the 2014 Microsoft Office Specialist (MOS) U.S. National Champions. The winners were named at the U.S. National Championship event in Atlanta, Georgia and will travel to Anaheim, California to compete in the MOS World Championship from July 27 – 30, 2014.
The U.S. winners are as follows:

Microsoft Excel® 2010: Daniel Hill, Green Hope High School, Cary, NC
Microsoft Excel® 2007: Stormy Skyles, Caldwell Parish High School, Columbia, LA
Microsoft PowerPoint® 2010: Timothy Holdiness, Ouachita Parish High School, Monroe, LA
Microsoft PowerPoint® 2007: Tyler Millis, Dunbar High School, Fort Myers, FL
Microsoft Word® 2010: Kyle Forst, Bridging Communities Regional Career and Technical Center, New Kent, Virginia
Microsoft Word® 2007: Dominique Howard, East Harlem Employment Service, New York, New York
From August 2013 to May 2014, more than 300,000 students in the United States entered the competition to demonstrate their level of proficiency in utilizing the world's foremost desktop computing applications. At the MOS U.S. National Championship, finalists participated in timed exams and interviews to demonstrate their expertise in Microsoft Office Word, Excel and PowerPoint programs. The champions in each program, along with a chaperone, have won an all-expense-paid trip to participate in the 2014 MOS World Championship in Anaheim, California.
"By earning MOS certification, these students already have an accomplishment that prepares them for success in college and careers," said Bob Whelan, president and chief executive officer for Pearson VUE. "They have proven their superior knowledge of Microsoft Office applications, the most popular productivity tools in the world, and we wish them the best as they compete at the World Championship."
About Certiport
Certiport, a Pearson VUE business, is the leading provider of certification exam development, delivery and program management services delivered through an expansive network of over 12,000 Certiport Authorized Testing Centers worldwide. Certiport manages a sophisticated portfolio of leading certification programs including: the official Microsoft Office Specialist certification program, the Microsoft Technology Associate certification program, the Microsoft Certified Educator program, the Adobe® Certified Associate certification program, the Adobe Certified Expert program, the HP Accredited Technical Associate, the CompTIA Strata™ IT Fundamentals, the Autodesk Certified User certification program, the Intuit QuickBooks Certified User certification program, and the IC3 Digital Literacy certification. Certiport reliably delivers over three million tests each year throughout the secondary, post-secondary, workforce, and corporate technology markets in more than 148 countries and 27 languages worldwide. For more information, please visit http://www.certiport.com or follow Certiport on Twitter at http://www.twitter.com/certiport.
"Certiport," "IC³" and "MeasureUp" are registered trademarks of Certiport, Inc. in the United States and other countries. The names of actual companies and products mentioned herein may be the trademarks of their respective owners.