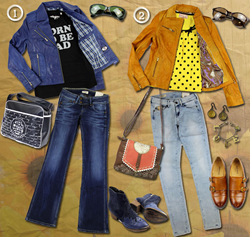 A key look for the festival season is pairing a cool retro anorak or indie windbreaker jacket with your festival attire.
Scarborough, North Yorkshire (PRWEB UK) 27 June 2014
The Festival season is upon us and online retailer Atom Retro are on hand to give the lowdown on the latest key looks.
For the ladies the mini dress is a hot trend. Atom Retro womenswear buyer, Lindsey Hagston says, "Fab floral and vintage patterned prints are going down really well and we've seen a real resurgence in the demand for retro skater skirts this season. They look strangely great with wellies and let's face it, if you're going to a UK festival, there's a good chance you'll need some wet weather attire!" Atom Retro's summer dresses collection is found on their website here.
This is also is why it's also good to take a lightweight shower proof jacket. A key look for the festival season is pairing a cool retro anorak or indie windbreaker jacket with your festival attire. Atom Retro stocks a wide range of windbreakers, light weight parkas and short jackets which are ideal. If you want to go for a stylish mod inspired look, then you could always opt for a lightweight parka. A traditional choice for 1960s mod, parkas protected suits from oily scooters, and they could also protect your threads from festival mud and dirt!
Menswear buyer, Alister Poulton says, "In terms of men's outerwear, we have seriously sold a shed load of Fly53 Burton Parkas and Zarco lightweight nylon jackets over the last few weeks. We know this is going to be a real winner at the festivals."
Jacket wise, for the girls, Atom Retro are tipping a bit of colour this season as a trend. Lindsey says, "We've got some very stylish leather jackets that are going down a storm. In bright colours like pink, yellow and cyan blue. They look great with skinny jeans, mini dresses and cropped skirts. You could also pair it with a retro music T-shirt, for which the Worn Free music inspired range fits the bill perfectly." Atom Retro's women's festival looks can be view at the Atom Retro website here.
For guys, Atom Retro recommends if it's sunny to ditch the jeans and go for a cool pair of shorts. Alister says, "Why not save yourself soggy hems, a hangover from the torrential downpour the night before? Nobody likes wet trousers as they absorb every drop of water from rain sodden turf!" Atom Retro stock durable denim shorts for those that like get right in the thick of it, as well as some rather refined prints including a floral wallpaper print from Realm & Empire and floral designs from Farah 1920.
About Atom Retro:
Atom Retro is a UK leading clothing retailer, boasting the largest range of authentic, high quality retro and mod clothing for men and women online. The Atom Retro range is inspired by the Carnaby Street boutiques of the sixties and includes an ever growing list of iconic brands and original, independent designers. Browse Atom Retro's extensive range of retro and mod clothing at http://www.atomretro.com.