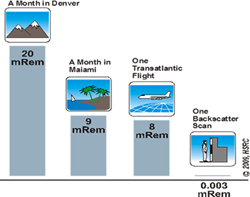 The decision of which enabling technology to select for People Screening portals is too often influenced by the public's misconception of radiation safety.
Washington, DC (PRWEB) June 30, 2014
According to a new report, U.S. People Security Screening Technologies, Industry & Market – 2014-2020 by Homeland Security Research Corp (HSRC), security decision makers are faced with an almost unfair dilemma in choosing Whole Body Scanners (AIT) technology. On the one hand, MMWave technology has limited resolution and above all cannot detect intra-cavity smuggling (e.g., passengers hiding plastic bags containing drugs or explosives in their body cavities, terrorists' plans to use surgeries to implant explosives inside the body of would-be suicide aviation terrorists).
On the other hand, Backscatter X-Ray technology provides dramatically-superior screening performance
1. It detects explosives and arms within and outside the human body
2. It provides (some) material identification capabilities (e.g., TNT vs. a bar of chocolate)
3. It can, due to its high spatial resolution, identify a bomb's wires
In short, it would be very difficult for terrorists to beat this technology at a radiation dose of a two minutes' flight at 30.000 feet.
The dilemma arises from the public's fear of radiation – a term that is automatically connected with the word "cancer". Following 40 years of medical research, no study has indicated any elevation of cancer prevalence in commercial air crews who fly hundreds of hours per year for over 20 years over a non-flying population.
MMWave AIT Advantages

Does not require bulky portals
Can provide the dielectric constraint of the screened concealed object (if it is dielectric)
No privacy issues
No ionizing radiation
MMWave AIT Disadvantages

Limited spatial resolution of ~1cm, but enough to detect an (>2 cm) object mounted outside the body
Can't detect intra-body concealed explosives and arms
Limited throughput
Backscatter X-Ray Advantages

High spatial and material ID resolution
Maximum detection of potential threats
Detects metallic and non-metallic weapons
IEDS detection
Detects explosives and drugs
Demonstrated effectiveness in prison environment
Can be used as primary or secondary screening
Hard to defeat
Some material ID reduces secondary screening
The 2nd generation systems have no privacy issues
Detects intra-body concealed explosives and arms
Backscatter X-Ray Disadvantages

Requires ionizing radiation
Public fear of radiation
Limited throughput
The "U.S. People Security Screening Technologies, Industry & Market – 2014-2020" report dissects the market in 400 pages and 228 tables, and figures into 18 submarkets granulated by 7 vertical sub-markets, 8 technology sub-markets, and 3 revenue source sub-markets.
The report analyzes the U.S. people security screening technologies, industry and market from several perspectives, including:
Current and pipeline technologies: "Screen while Walk" Technologies, Automated Border Control, Biometric (& Other) ID Documents Screening Technologies, single energy X-ray, dual energy X-ray, backscatter X-ray, multi-view X-ray and coherent X-ray, Threat Image Projection (TIP), Cast and Artificial Limbs X-ray, Transportable X-RAY Checkpoints, Fused X-ray and ETD systems, Fused Hand Held baggage X-ray and RFID, Multi-Threat Multi-Modal X-Ray Screening, Stereoscopic "3D X-ray" Imaging, Explosives Trace Detectors (ETD), Ion Mobility Spectroscopy (IMS), ChemiLuminescence (CL), Electron Capture Detectors (ECD), Surface Acoustic Wave (SAW), ETD MicroChemLab on a Chip, Coated Micro-Cantilever ETD Detector, Nanotechnology Based ETD Detector, Next Generation ETD Technologies, X-ray Backscatter AIT Portals, Active MMWave Whole Body AIT Scanners, Passive MMWave Whole Body Scanners, Terahertz Whole Body Scanners, Terahertz Weapon Detection Portals, Terahertz Time Domain Spectroscopy (TTDS), Metal Detection Portals & Hand-Held Devices, Shoe Scanners, Liquid Explosives Scanners, Body Cavities Screening Systems, Computer Aided Detection (CAD) Software, Biometric Screening, Fused Biometric, Document Authentication Interrogation Portals, Multi-Modal & Multi-Threat Portals
Competitive Environment: 34 vendor profiles and their products description & prices. Companies included in the report are as follows: Auto Clear, ADANI, Red X Defense, Syagen Technology, Thermo Electron Corporation, Biosensor Applications, Hitachi, Scent Detection Technologies, Ketech Defence, Mistral Security Inc, Appealing Products, Inc (API) / ChemSee, DetectaChem LLC, Scintrex Trace, Flir Systems, Ion Applications Inc, BAHIA Corp (Sibel Ltd), CEIA, Garrett Electronics Inc, Fisher Labs, Brijot Imaging Systems, TeraView, ThruVision Systems, Gilardoni SpA, L-3 Communications Security & Detection Systems, QinetiQ Ltd, Westminster International Ltd, LIXI, Inc, Morpho Detection Inc, NUCTECH Co Ltd, Rapiscan Security Products, Inc, SCANNA MSC Ltd., Smiths Detection, Vidisco Ltd.
514 U.S. airports with over 100,000 annual screened passengers: Details including the number of screened passengers and the annual growth rate for each airport.
Market & industry analysis: Market drivers & inhibitors and the U.S. people screening industry SWOT analysis
Business environment: Competitive analysis, industry analysis , price elasticity, mergers, and acquisitions (M&A)
Business opportunities and challenges: Dozens of business opportunities, barriers to entry, supply-side & demand-side analysis, variable economic conditions, market tiers, defense primes & mega corporations' inroads into the market, people screening market entry strategies
The report also includes the following 6 Appendixes:
Appendix A: Covert Walk-by People Screening Technologies
Appendix B: People Profiling and Behavior Tracking
Appendix C: CCTV-Based People Screening
Appendix D: Abbreviations
Appendix F: The People Screening Systems and Devices Industry
Appendix G: People screening Industry: Business Models & Strategies
Explore more Homeland Security and Public Safety Reports at
http://www.homelandsecurityresearch.com.
About Homeland Security Research Corp. (HSRC)
HSRC is a Washington, D.C.-based international market research and strategic consulting firm serving the Homeland Security and Public Safety communities. HSRC provides premium market, present & emerging technologies and industry expertise, enabling our global clients to gain critical insight into the business opportunities that exist within the Homeland Security & Public Safety markets. Government clients include the U.S. Congress, DHS, U.S. Army, U.S. Navy, NATO, U.K., Japan, Korea, Taiwan, Israel, Canada, Germany, Australia, Sweden, Finland, and Singapore; DOD, DOT, GAO, and the EU are among others. HSRC serves over 650 private sector clients, including all major defense and security contractors and many Fortune 500 companies. 70% of our reports are acquired by repeat customers.