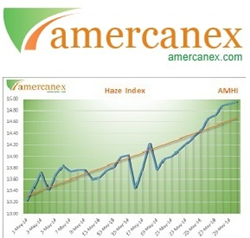 Robert Ruiz - CMO – states that the Cannabis Market is the fastest growing market in the United States. The Cannabis Market is ready and in need of transparency, scalability and cost reduction.
(PRWEB) June 25, 2014
On July 1st, 2014 Amercanex (American Cannabis Exchange) will become the first fully Electronic Cannabis Market (ECM) in which wholesale and retail distributors of cannabis can sell, buy, or exchange their inventories on a fully disclosed and transparent environment using the ACE Marketplace, all while strictly adhering to and centralizing regulatory and reporting requirements to local and regional regulatory authority.
Amercanex understands that in order for this industry to succeed, regulators will need an effective system to monitor, regulate, and collect revenue from intra-state industry producers and retail outlets. Today's available systems and current instruments do not effectively meet the growing needs, nor will be able to sustain the influx of participants and product/transaction volume in the very near future. AMERCANEX offers a cutting-edge infrastructure, tools and need-based solutions predicated on state-of-the-art technology and real world experience.
Why Amercanex?
Amercanex, the first ECM for the institutional wholesale cannabis market, will set the standard in marketplace efficiency, regulatory reporting and innovative technology.

Diverse client base of market participants
True price competition
Tailored solutions to suit client needs
Comprehensive suite of tools for order monitoring and regulatory reporting
Complete access over the Internet with fully managed infrastructure
Flexible real-time and historical market data
24-hour client service and support
ACE Marketplace (Amercanex Cannabis Exchange) is the web-based user-interface to the ECM (Electronic Cannabis Marketplace). ACE provides cultivators and vendors a central electronic platform to sell/buy their inventories anonymously, so that only product, quantity, and best-available pricing are shown thus ensuring a completely transparent, neutral and non-manipulated free-market where supply and demand are the only factors affecting price discovery.
Contact
Robert Ruiz
Amercanex
888-673-5530 x 2405
robert.ruiz(at)amercanex(dot)com
http://www.amercanex.com