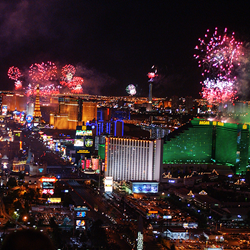 (PRWEB) June 28, 2014
Las Vegas always goes big for holiday weekends, so it's no surprise that the city will be setting off some star-spangled fireworks shows this Fourth of July! Here's a list of the Top Five spots in Las Vegas with mind-blowing views of this explosive American tradition!
1. The High Roller
From 550ft up in the air, it's nearly impossible to decide which visual is more breathtaking; the fireworks or the view of Las Vegas. This July 4th, the world's tallest observation wheel will be inviting guests along for the half-hour ride to catch the strip's famous fireworks display. The High Roller will begin boarding for the premium, holiday ride from 8:30pm to 9:30pm. Purchase of a general admission ticket for the event includes a complimentary beverage, while purchase of a private cabin offers open bar for up to 25 guests. The High Roller will go all out this Fourth of July, and offer guests an unforgettable holiday experience.
2. Ghostbar at The Palms
This elegant ultra-lounge at the Palms Casino Resort is located on the 55th floor. The height of the club alone provides a gorgeous view that is greatly accentuated by the clear glass that is implemented into the floor of the Ghostbar's balcony, creating a window that looks directly down over Las Vegas. The breathtaking view, and chic atmosphere make Ghostbar a hot-spot for those looking for a prime view of the strip's classic firework show, and celebrate the Fourth in style.
3. Boulder City
Located about 30 miles from the Las Vegas Strip, Boulder City kicks off its annual Fourth of July, Damboree Celebration at 7am, and will continue with patriotic festivities leading into the night. At 9pm, the event will spark up an incredible firework display that is sure to "wow" guests of all ages. The Damboree Celebration is great for families, and those who appreciate a classic, All-American firework extravaganza with a hometown feel.
4. Stations Casinos
This Fourth of July, a number of stations casinos around the valley will be putting on separate, but equally dazzling fireworks shows. The Green Valley Ranch Resort, Aliante Hotel Casino, The Fiesta Casino, The Texas Station, and the Red Rock Resort will all be taking part in the American tradition. These Stations Casino properties will display sensational fireworks and provide a fun, all-ages atmosphere.
5. Exploration Peak Park
Located about 10 miles away from the Las Vegas Strip at 9700 South Buffalo Drive, Las Vegas, NV, Exploration Peak Park offers an elevated observation point atop a small mountain that overlooks the entire Vegas Valley. This location is great for nature lovers, as a mildly challenging hike is required to reach the top. The observation deck provides a stunning, panoramic view of Las Vegas, as the strip, and other locations throughout the city set-off their magical fireworks.
For more information on 4th of July celebrations in Las Vegas, find it on BestofVegas.com.
About BestofVegas.com
BestofVegas.com is an Entertainment Benefits Group Company (EBG) and has been delivering Las Vegas travel fun since 2001. Negotiating the best rates on hotels, tours, and shows, we work directly with partners to help visitors save money and really explore Vegas. EBG operates more than 35 locations in Las Vegas with a customer service call center available seven days a week. BestofVegas.com delivers special offers, exclusive Cirque du Soleil backstage tours, and great deals on what makes Vegas so fun.