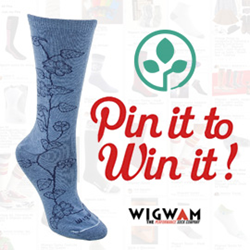 Waltham, MA (PRWEB) June 26, 2014
PlanetShoes and lifestyle retailer Wigwam socks are proud to announce the launch of their June Pin to Win Contest. Contestants are simply asked to create a Pinterest board showcasing at least five (5) pairs of their favorite Wigwam socks along with helpful fitness tips to get in shape for summer. Both Wigwam and PlanetShoes have chosen to run the contest to promote the active, fit, healthy lifestyle they both believe in. This contest will run from June 16th - July 6th, 2014.
The winner of this contest will receive a free bundle of Wigwam socks, courtesy of Wigwam.
To enter the contest, one should visit the PlanetShoes Facebook Contest Page at http://www.facebook.com/planetshoes.
About Wigwam Socks
A proudly Made in the USA company, Wigwam socks is committed to creating high quality products and keeping Americans employed. While creating their insanely comfortable socks, Wigwam has been hard at work greening their business by working closely with local utilities, using solar thermal technologies and buying domestic, local supplies. These materials, like Merino wool and Dri-Release fibers, keep the feet content, cool and sweat-free on even the toughest of workouts. With over 100 years of experience in the sock industry and a commitment to constantly developing new technologies and designing socks to perfectly fit each and every foot, Wigwam socks are guaranteed to leave your feet happy.
About PlanetShoes
PlanetShoes.com is a lifestyle retailer committed to carrying a large assortment of distinctive, hard-to-find shoes, boots, bags and accessories that blend style, comfort and value. PlanetShoes goes beyond the traditional online shoe shopping experience, helping visitors explore and discover brands that matter. Shoppers can check out the hottest fashions and trends, or browse by categories such as eco-friendly, vegan, made in the USA, made in Europe, health and wellness, travel, outdoor and wide widths. And with a wide selection of products from more than 200 brands, PlanetShoes has something for every occasion, style and season. For more information, please visit http://www.planetshoes.com.