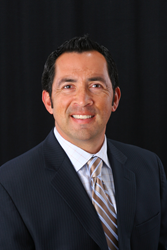 Richard instinctively knows how to inspire his team and drive sales.
Atlanta, GA and Los Angeles, CA (PRWEB) June 24, 2014
RentPath, is pleased to announce the recent hire of Richard Barajas as the Vice President of Sales for Rent.com. A leading digital media company in the multifamily rental industry, RentPath is the parent company of Apartment Guide and Rent.com. In his new role, Mr. Barajas will be responsible for all business-to-business sales and training efforts for Rent.com across the U.S.
Mr. Barajas is a sales and business development expert with nearly 19 years of professional experience. During his career, he has demonstrated a deep understanding of the needs of his clients and his employees. His specialties include general management, building cohesive teams, and impressive revenue growth via direct and indirect sales.
"At Rent.com, we strive to hire the best and the brightest because we know that our employees are our competitive advantage. Richard instinctively knows how to inspire his team and drive sales. We are thrilled to have him on board," said Amit Jain, Rent.com's President.
Prior to joining Rent.com, Mr. Barajas was President of LeisureLink a Pasadena, California based company that helps independent properties achieve dramatically higher revenues and turns them into leaders in their markets. During his tenure at LeisureLink, he managed all operational facets of the organization and achieved 40 percent year over year growth. Previous to that, he held numerous executive positions, including Regional Director of Sales for TravelClick, Vice President of Business Development for GetThere.com, and Director of Leisure Sales and Service for Sabre Travel Network.
Mr. Barajas holds a Bachelor of Science degree in Biology from the University of North Texas and a Master's degree in Technology Management from The University of Phoenix.
About RentPath
RentPath, a leading digital media company and a TPG portfolio company, has a long-standing heritage in the real estate industry to empower millions of people nationwide to find apartments, houses for rent and new homes for sale. RentPath's category-leading brands include Apartment Guide, Rent.com, Lovely, Rentals.com, RentalHouses.com, and New Home Guide. All total, its network of websites reaches over 7 million unduplicated unique visitors monthly. RentPath, Inc. has its headquarters in Norcross, Georgia (outside of Atlanta). For more information, visit http://www.rentpath.com.
About Rent.com
Rent.com is a leading rental listing website dedicated to giving renters a convenient way to find the perfect place to live and providing property owners quality leads that convert to leases. From any device they choose, mobile or desktop, or Rent.com's popular app, renters search the site's detailed property listings using a robust search tool, with detailed filters to zero in on the properties with the exact amenities and location they seek. Boasting the industry's highest Lead-to-Lease conversion rate, Rent.com offers property owners more than just traffic and leads, it also offers properties a beautiful virtual storefront. Through a renter registration process, and detailed matching filters, Properties are assured their onsite managers are only talking to well qualified prospects.
Rent.com is headquartered in Los Angeles, CA, and is a wholly owned subsidiary of RentPath. For more information, visit http://www.rent.com.
Visit Rent.com's blog, The Shared Wall, for information, advice and insight on the world of rental living at http://www.rent.com/blog. You can also follow Rent.com on Twitter at @RentDotCom, on Pinterest at http://www.pinterest.com/rentdotcom , or on Facebook at https://www.facebook.com/rentdotcom.
For additional insight on moving and more, visit Apartment Guide's blog and connect with Apartment Guide on Facebook, Twitter, YouTube, Pinterest and Google+.