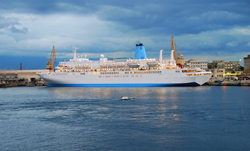 Select Italy's excursions can be customized, to allow the traveler to see what he most wishes to see, allowing plenty of free time before heading back to the port
Chicago, IL (PRWEB) June 25, 2014
Travelers who decide to book shore excursions through Select Italy (http://www.selectitaly.com) can benefit from a wide variety of one day unique tours specifically dedicated to cruise passengers. The tours are easily customizable in order to fulfill travelers' timing needs and interests.
Since 80% of Italy borders the sea and, many Italian destinations are reachable by water. Travelers who decide to discover Italy by cruise can book Select Italy's shore excursions departing from the ports of call in Livorno, Civitavecchia, Naples, Genoa, Savona, Messina, Palermo, Catania, Olbia, Cagliari, Bari, Salerno, Ancona, Ravenna and Venice and experience the most popular touristic attractions. Select Italy offers -either private or small group - excursions that are more relaxed, independent, and of higher quality than the ones arranged by cruise lines. Shore excursions organized by cruise lines are usually very expensive, crowded and do not always show the best and the most authentic of the famed cities. With Select Italy's cruise excursions, travelers will benefit from professional local guides, well-organized private transfers from and to the port, as well as a dedicated support staff.
Cruise travelers stopping at the Civitavecchia port of call can hit Rome's highlights and experience the best of the Eternal City. The "Glimpse of Rome excursion" includes roundtrip transportation from and to Civitavecchia port with a personal driver, the Colosseum's Dungeons and Upper Tiers shared tour, and the must-see Rome small group walking tour. During the walking tour, a certified guide will lead the tourists from the Spanish Steps to the Trevi Fountain, Piazza Colonna, the 2000-year-old Pantheon, finishing in the famous Piazza Navona. If the port of call is Livorno, travelers can choose between the Florence and Pisa excursion, for a guided walking tour of Renaissance's birthplace and a visit to the Leaning Tower; the all day Florence excursion, for those who want to experience this open-air museum city at its best; or the Cinque Terre excursion, for those who are interested in picturesque views of sea cliffs and scenic terraced farms.
"Cruise travelers who would like to take a tour, but do not want to follow along with the crowded cruise ship's group excursions, should choose Select Italy's relaxed and private shore excursions", says Beth Rubin, Sales Manager. "These excursions can be customized, to allow the traveler to see what he most wishes to see, allowing plenty of free time before heading back to the port".
For more information please visit Select Italy's website or send an e-mail to pr(at)selectitaly(dot)com.