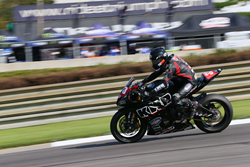 I was very lucky to come away with no broken bones on that one.
Plymouth,WI (PRWEB) June 24, 2014
Kyle Wyman took home an 11th place finish in the AMA Pro Daytona Sportbike race at Barber Motorsports Park in Birmingham Alabama over the weekend. The Millennium Technologies racer scored the impressive finish after suffering a big crash in the Harley-Davidson series event earlier in the day.
During the Harley-Davidson series race, Wyman was engaged in a standoff for the second place position before his XR1200 went down, sending him through the second turn gravel trap and into the barrier.
"I was very lucky to come away with no broken bones on that one," Wyman said. "Fortunate for me I was headed toward a small section of foam barrier about 20 feet wide between large sections of Armco."
Although the crash, his first of the season and his first since 2012, was a major setback for Wyman in the Harley-Davidson series, the Pro Daytona Sportbike race would make up for the lost laps. Despite being bruised up from his XR1200 crash, Wyman endured the 19-lap event from start to finish.
"The DSB race was really tough physically, especially after being thrown off the Harley," Wyman said. "We really made a huge step in the setup Sunday morning with the front end and I was looking forward to the race. We had much faster lap times in the race but were not very consistent. It will be good to rest up and come out swinging at Laguna Seca."
The crash at Barber Motorsports Park caused Wyman to drop to 8th place in points for the AMA Pro Harley-Davidson series. Kyle still sits in 6th place in the standings for the AMA's Pro Daytona Sportbike series. Wyman will attempt to further his position in his next events at Mazda Raceway Laguna Seca, July 11th-13th.
To follow Kyle's on social media, visit http://www.facebook.com/kylewymanfans or https://twitter.com/KyleWyman.
To learn more about Millennium Technologies' performance cylinder plating, visit http://www.mt-llc.com.