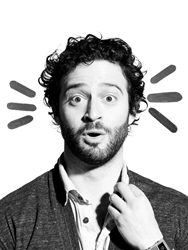 This tour should feel less like a class and more like a bunch of editors hanging out at 2AM in an edit suite at Rockefeller Center,...but make no mistake: though the atmosphere may be lax, the education will be intense. Adam Epstein
Kensington, MD (PRWEB) June 25, 2014
Emmy-nominee and editor for the Saturday Night Live Film Unit, Adam Epstein's Cutting Edge tour takes off July 20th and will reach 32 cities in 9 weeks covering the multifaceted intricacies of post-production. Cutting Edge students have three options: Attend the entire day from 9:00 am-8:00pm, actively participate in the Daytime Workshop from 9:00am-4:00pm or engage in the Evening Seminar from 5:00pm-8:00pm. For the Film Unit's pieces, Epstein often finds himself with less than 24 hours to cut the hilarious and popular spots that are broadcasted to millions of viewers every Saturday night. Epstein believes it takes more than the technical aspects of post-production to create compelling work -- it involves rhythm, tone, and a sharp focus on storytelling. Epstein will be illustrating all these points and more in his workshop and seminar.
Not only will Epstein be examining and breaking down scenes from films, music videos, and other sources that have inspired him, but he will also demonstrate how to handle multiple cameras and their workflow, various codecs, sound design and music selection, while showing you how to get the most out of your footage. Epstein will be unraveling the differences between promos, commercials, short films and how specific editing techniques fit and enhance character archetypes. Epstein will teach how to work faster and more efficiently while still achieving a high quality end product.
Epstein's editing has contributed to several instant classics, such as SNL skits The Beygency and Louie/Lincoln, for which he received an Emmy nomination. Epstein is currently editing the Paramount feature comedy Staten Island Summer for long-time SNL director Rhys Thomas. In the past, Epstein has worked with a host of network and cable clients such as ABC, Bravo, Discovery, Comedy Central, Animal Planet and Sundance. Outside of the edit room, Epstein writes a column for Tribeca Film where he shares his insights on creativity with a focus on editing and post-production.