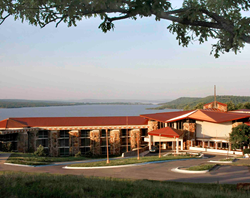 Narconon in Oklahoma has been accredited by CARF consistently since 1992.
Canadian, Oklahoma (PRWEB) June 25, 2014
Narconon Arrowhead, an Oklahoma-based drug rehabilitation facility, recently earned accreditation from CARF, the highly respected organization which provides accreditation services to health and human service organizations worldwide. Narconon in Oklahoma has been accredited by CARF consistently since 1992.
CARF accreditation is a sign of quality, and is important to consumers who are faced with a broad array of services from which to choose in making the vitally important decision as to what rehabilitation treatment program to choose.
CARF accreditation is important to the individual seeking treatment for substance abuse and addiction, verifying a standard of treatment program care and value of service delivered which consumers can have confidence in.
Value of Accreditation
Based on its wide range of experience and volume of program inspection and evaluation, CARF has conducted hundreds of thousands of surveys on programs in North and South America, Asia, Africa and Europe since its founding in 1966.
CARF accreditation is regarded as an assurance that the programs or facilities accredited are of the highest quality. CARF accreditation is recognized as a demonstration of superior performance on behalf of the organization in servicing its clients, measuring a service provider's programs and service delivery against clearly defined and internationally accepted standards.
Achieving Accreditation
To achieve accreditation from CARF required that Narconon Arrowhead be committed to quality improvement and be willing to focus on the unique needs of each person who comes to them for drug rehabilitation treatment. It also requires that the center monitor the results of its services.
Narconon Arrowhead began the accreditation process with an internal examination of its program and its business practices. CARF then selected a team of expert practitioners to do an on-site survey at which time the center was required to demonstrate its conformation to a series of internationally recognized and rigorous CARF standards.
Based on its 2014 CARF survey results, Narconon Arrowhead received a written report of its strengths, along with any advices for improvements. In order to earn the CARF accreditation, the rehab center had to sufficiently demonstrate its conformance to the rigorous standards laid out.
Upon receiving its report, Narconon Arrowhead was required to submit a QIP (Quality Improvement Plan), showing how it is addressing any areas designated for improvement.
For the ensuing 3-year term of the recently awarded accreditation, Narconon Arrowhead is required to annually provide CARF with a report which documents additional improvements it has made.
It is a respected accomplishment for Narconon Arrowhead to be awarded CARF accreditation.
The Strengths of Narconon Arrowhead
The following strengths were reported in the CARF 2014 Summary Report on Narconon Arrowhead. They are stated verbatim as taken directly from the report, as follows:

Narconon Arrowhead is led by devoted and dedicated leadership staff members whose main mission is to save the lives of the persons served. There is a strong sense of teamwork and support for one another.
The facilities are beautiful and spacious. The facilities are aesthetically located on several acres of land adjacent to a lake, gold course, and state park. The organization provides a safe therapeutic and welcoming environment that is conducive to quality treatment and recovery.
The staff members are knowledgeable, compassionate, and caring. They advocate for the persons served, seeking ways in which to accommodate for any special needs.
The leadership is acknowledged for the decision of moving to the Routine Outcome Monitoring system. This system, which includes the development of an electronic record keeping system, will lead to improved effectiveness and efficiency throughout the organization.
The organization has retained several staff members who once were served in the programs. These individuals have many years of experience with Narconon Arrowhead and have stayed so that they can make a difference in the lives of every person served.
The persons served consistently expressed satisfaction with the services provided and that their specific needs are being met. They are quoted as saying, "if they didn't have this program, I wouldn't know what to do. I'm glad I'm on this. It saved my life."
The organization provides a safe, therapeutic, and welcoming environment that is conducive to quality treatment and recovery.
Narconon Arrowhead Offers Rehabilitation Help
Individuals and families needing help with substance abuse and addiction are welcome to contact Narconon Arrowhead with any questions or assistance they may need. Please call toll free at 1-800-468-6933 or visit http://www.narcononarrowhead.org.