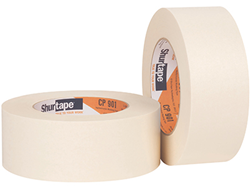 Hickory, NC (PRWEB) June 26, 2014
The oil and natural gas industry demands strict attention to detail, ensuring work is done right and meets exact specifications. Even something as seemingly "simple" as masking tape plays a vital role. Now, Shurtape®, a leading manufacturer of industrial tapes, introduces CP 901 – a high-performance masking tape designed specifically for the oil and natural gas pipe coating industry.
CP 901 combines a rubber-based adhesive system and a durable crepe backing to deliver an easy-to-use tool for masking pipe ends prior to coating under extreme temperatures. It is the first tape in the industry designed specifically for the steel pipe coating application process, and delivers excellent results in three key performance areas:

Applies quickly: CP 901 is designed to easily unwind from the roll. The tape's splice-free feature also means there is less worry about tape breakage, and its quick-stick performance offers strong adhesion for high-speed production processes.
Takes the heat: The tape's adhesive sticks well to pipes and stays put through the coating process. And, as high heat resistance in the tape's backing is critical, CP 901 features a backing that resists charring up to 450-460 F for short time durations (1-2 minutes) while moving through the coating booth.
Removes cleanly: CP 901 is engineered to produce consistent, sharp coating lines. The tape's special release system also ensures it adheres well to itself to prevent coating damage due to loose tape ends. When the job is done, CP 901 removes cleanly and leaves pipe ends residue-free.
"Every aspect of the steel pipe coating process is critical, from pre-heat to coating to masking the pipe ends," said Chris Ferrelli, market manager of industrial tapes. "We are committed to innovating our product lines to offer solutions that make jobs easier and that deliver superior results. CP 901 high-performance masking tape is tailored specifically to take the heat in this tough environment, offering key performance attributes, like low charring and clean removal, demanded of tapes used in this industry."
CP 901 is designed for the Fusion Bonded Epoxy (FBE) coating process (15-35 feet per minute) and for high-speed FBE (up to 75 feet per minute). It can also be used for the longer duration FBE and Abrasion Resistant Overcoat processes.
For more information about Shurtape® CP 901 high-performance masking tape, visit shurtape.com.
###
SHURTAPE®
Shurtape®, Hickory, N.C., is an industry-leading producer of pressure-sensitive tapes designed to meet the most exacting standards. Products include masking and paper, foil and film, packaging, double-coated, cloth and duct, and other specialty tape products, in addition to packaging dispensers and equipment for automated and manual packaging applications. Recognized as a Responsible Tape Manufacturer by the Pressure Sensitive Tape Council (PSTC), Shurtape proudly serves a variety of markets, from painting and packaging to HVAC and transportation, with facilities in the United States, Canada, United Kingdom, Germany, Mexico, Peru, United Arab Emirates and China. For more information, visit shurtape.com, find us on Facebook® (facebook.com/Shurtape) or follow us on Twitter® (@shurtapetech).
Facebook® is a registered trademark of Facebook, Inc.
Twitter® is a registered trademark of Twitter, Inc.