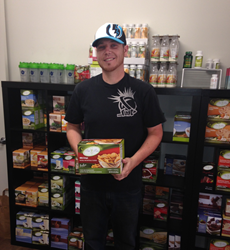 I was able to take control of my future and pursue the dreams that my weight was holding me back from.
Newport Beach, CA (PRWEB) July 07, 2014
Rejected by the U.S. Army because of his weight, 26 year old Newport Beach CA resident Chase Hair sought the help of Wellness Choice Center, losing 30 pounds of fat since May, and enlisting in the United States Army in June.
On July 1st Chase started working out with his drill Sargent, and on July 4th he proudly wore his uniform for the first time and marched with his platoon at an Independence Day Parade.
Chase had always wanted to enlist in the U.S. Army; unfortunately he had been turned away at recruitment offices due to his weight. Chase enrolled in Wellness Choice Center's physician-monitored weight loss program, and after about one month Chase lost over 30 pounds and 25 inches. Astonished recruitment officers eagerly accepted Chase into the U.S. Army, and news of his weight loss traveled all the way up to senior officers.
Chase's weight struggles keeping him from pursing his dreams of joining the U.S. Army isn't an isolated case. Weight is a big issue in the United States military. In fact, a recent report titled, "Too Fat to Fight" warned Congress that at least 27 percent of Americans ages 17 to 24 are too overweight to meet basic enlistment standards. "I was contacted by the head officer at the recruitment center expressing how proud he was of me for all my hard work and dedication to reach weight," Chase says. "He actually wants me to do an interview for well-known magazine about my weight loss."
Dr. Nona Djavid, Wellness Choice Center's founder is extremely happy with Chase's results as well. "We strive to offer to our clients achievable and life-changing wellness that allows each individual to pursue their dreams with their full health and potential." In fact, Wellness Choice Center recently opened new clinics in Central California and South Orange County to support their growing clientele.
How is Chase handling all the publicity and attention surrounding his weight loss? "I'm so happy," he says. "I was able to take control of my future and pursue the dreams that my weight was holding me back from, and for that I can't recommend Wellness Choice Center enough!"
In honor of Chase's—and all other client's—successes, Wellness Choice is offering free weight loss consultations for the month of July for those looking to change their lives and pursue their careers and dreams. Interested parties should contact the center directly for appointment availability.
About Wellness Choice Center
Wellness Choice Center is a state-of-the-art facility founded in 2007 in Newport Beach, CA. The center provides the latest and most researched techniques on postural and spinal correction. The chiropractic team of doctors, led by Dr. Nona Djavid provides custom, effective, and well-rounded program to focus on the root cause of pain and discomfort through corrective care to ensure long-term success.
Wellness Choice Center also practices a holistic approach to care, through fitness, nutrition, and lifestyle counseling. They work with a network of healthcare professionals to provide the best and most comprehensive treatment plan. From in-house sports medicine specialists, to certified massage therapists and personal trainers, the team of experts is dedicated to helping regain youth, health, and vitality. For more information about the Wellness Choice Center, visit http://www.wellnesschoice.com/.