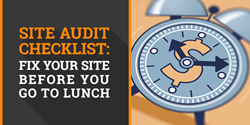 The company also published an online checklist one can use to audit their site really quickly - just in time to catch a 12 o'clock lunch.
(PRWEB) June 24, 2014
And, to help SEO professionals become skilled at using the new dashboard in WebSite Auditor, the company also published an online checklist one can use to audit their site really quickly - just in time to catch a 12 o'clock lunch.
The new "Site Audit" tab
Last week, Link-Assistant.Com had equipped its award-winning WebSite Auditor tool with a new "Site Audit" tab that allows one to view all their website's on-page SEO issues at a glance.
Within one concise table now available in WebSite Auditor, one can see:
-Their website's indexing and crawlability errors (404 pages, robots.txt errors, etc.)
-Any redirects implemented on a site
-Encoding and technical problems (duplicate canonical tags, oversize pages, etc.)
-Pages with URL-related issues, and more.
The "Fix Your Site Before Lunch" checklist
Although the new Site Audit tab is clear-cut and contains in-depth SEO recommendations, the developer also released a convenient do-it-yourself SEO checklist, using which one can easily perform complete audit of their site in just under 3 hours (from 9:00 am till noon).
The on-page SEO checklist consists of just 7 steps one should take (aided by the WebSite Auditor tool) to run full analysis of their website's accessibility, coding, URL structure and content. Full version of the on-page SEO checklist can be found at http://www.link-assistant.com/news/site-audit-checklist.html.
About WebSite Auditor
Link-Assistant.Com's WebSite Auditor, an on-page SEO tool, became part of the company's SEO PowerSuite toolkit in 2008. Since then, it has been enriched with many useful features that provide for fast, accurate and effortless on-page SEO audit and content optimization.
The software tool consists of 2 major modules: (1) the site structure audit module and (2) the content optimization module. Besides, one gets professional SEO reports that are available to print out in Pro and Enterprise version (the Enterprise version also lets users white-label, schedule, email or publish reports to the Web).
*About Link-Assistant.Com*
Link-Assistant.Com is a software developer with almost 10 years of experience providing high-performing SEO tools for bloggers, SEO consultants and online marketing agencies. The company's best-known toolset, SEO PowerSuite, is presently used by over 500,000 people worldwide who rely on it for facilitated SEO process and paramount SEO results.
Keep abreast of the SEO industry – follow Link-Assistant.Com on Facebook fb.me/LinkAssistant, Twitter @LinkAssistant or Google Plus gplus.to/LinkAssistant.